Tourtière Turnovers
Holiday 2018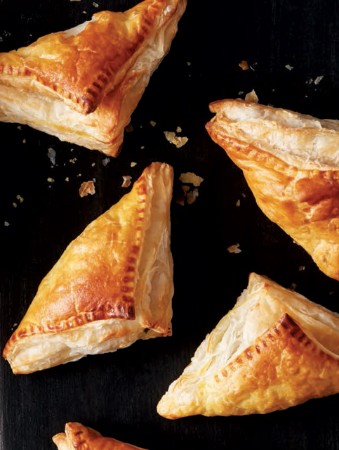 Tourtière Turnovers
Holiday 2018
BY: Jennifer MacKenzie
Crisp flaky turnovers filled with a classic tourtière filling are ready to bake and serve throughout the holiday season. You can bake just a few at a time or the whole batch for a crowd (you can even double the recipe if you really want to stock up). They make a fun addition to a charcuterie platter with pickles and other meats and cheeses, or as a side to a green salad for a plated starter. A spoonful of chili sauce or fruit ketchup is the ideal accompaniment.
12 oz (340 g) ground beef or pork (or a mixture).
⅓ cup (80 mL) finely chopped onion
½ stalk celery, finely chopped
1 large clove garlic, minced
½ tsp (2 mL) dried savoury
½ tsp (2 mL) dried sage
¼ tsp (1 mL) salt
¼ tsp (1 mL) freshly ground pepper
⅛ tsp (0.5 mL) dried thyme
Pinch ground allspice
½ cup (125 mL) unsalted beef stock or water
1 tbsp (15 mL) chopped fresh parsley
1 lb (455 g) frozen puff pastry, defrosted
All-purpose flour
1 egg
2 tsp (10 mL) water
1. Cook ground meat in a medium skillet over high heat, stirring and breaking up meat, for about 10 minutes or until no longer pink. Remove from heat and tilt pan to drain liquid to one side of the pan. If there is more than about 1 tbsp (15 mL) liquid, spoon off excess.

2. Return skillet to high heat and add onion, celery, garlic, savoury, sage, salt, pepper, thyme and allspice. Cook, stirring often, for about 3 minutes or until onions are sizzling.

3. Pour in stock and bring to a boil. Cover, reduce heat to medium-low and simmer, stirring occasionally, for about 15 minutes or until most of liquid is evaporated but meat mixture is still moist. Stir in parsley. Transfer to a shallow dish and let cool. Cover and refrigerate until chilled, about 1 hour, or for up to 1 day.

4. Line 2 baking sheets with parchment paper.

5. Divide pastry in half, returning half to the refrigerator. Roll out pastry on a lightly floured surface to a 12-inch (30-cm) square. Cut into 3 strips crosswise and lengthwise to make nine 4-inch (10-cm) squares. See TIP 1.

6. Whisk egg with water in a small bowl. Brush pastry squares lightly with egg wash.

7. Stir meat mixture, break up any clumps. Spoon a heaped tbsp (15 to 20 mL) into the centre of each square. Fold one corner over to form a triangle and enclose filling. Press edges with a fork to seal and crimp. Brush tops with egg wash. Place on lined baking sheets, spacing apart. Place in refrigerator while making 9 more turnovers with remaining pastry and filling.

8. Freeze turnovers on baking sheets until solid, about 2 hours. Transfer to a rigid airtight container, layering with parchment paper, and freeze for up to 1 month. See TIP 2.

9. To serve, preheat oven to 400°F (200°C). Line a baking sheet (use 2 if baking all the turnovers at once) with parchment paper.

10. Arrange frozen turnovers on lined baking sheet, spacing at least 1 inch (2.5 cm) apart. Bake, 1 sheet at a time, for about 25 minutes or until pastry is golden and puffed and filling is hot. Let cool on baking sheet for 5 minutes.
TIP 1 To make 32 smaller turnovers, cut each 12-inch (30-cm) square of pastry into sixteen 3-inch (8-cm) squares and use a level tbsp (15 mL) of filling for each turnover. Reduce baking time to about 20 minutes.

TIP 2 To bake turnovers without first freezing them, refrigerate assembled turnovers for about 30 minutes to chill. Reduce baking time to about 20 minutes.
SHARE