Tourtière with a Twist
Holiday 2006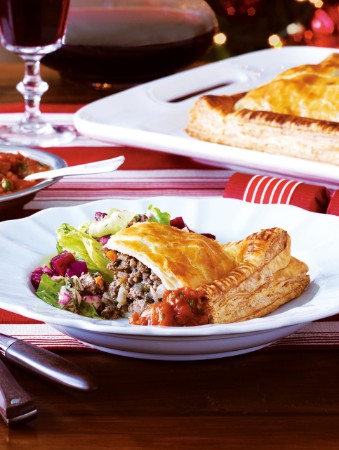 Tourtière with a Twist
Holiday 2006
BY: Lucy Waverman
Tourtière can be quite heavy with thick double-crust pastry. This version is lighter but still has all the taste associated with this French Canadian classic. It has a rough puff pastry - very easy to make, with great texture. You can use traditional puff pastry or a regular shortcrust although it will not have quite the same texture. I prefer a mixture of beef, veal and pork for optimum taste, but you can use all beef or all pork if you wish. Make this free-hand into a square, round or rectangular shape.
Rough Puff Pastry
1 cup (250 mL) butter, at room temperature
1egg
1¾ cups (425 mL) all-purpose flour
½ tsp (2 mL) salt

Filling
2 tbsp (25 mL) olive oil
1 lb (500 g) ground pork
½ lb (250 g) ground beef
½ lb (250 g) ground veal
1½ cups (375 mL) finely chopped onion
½ cup (125 mL) finely chopped carrot
1 cup (250 mL) chopped fennel
1 bay leaf
½ tsp (2 mL) dried thyme
1 tsp (5 mL) dry mustard
1 tsp(5 mL) allspice
½ tsp (2 mL) cinnamon
2 tbsp (25 mL) rolled oats
Salt and freshly ground pepper
1½ cup (375 mL) beef stock
2 tbsp (25 mL) chopped fresh parsley
2 tbsp (25 mL) dried bread crumbs or 1 tbsp (15 mL) semolina


Egg wash
1 egg beaten
1 tbsp (15 mL) whipping cream
1. Using your hands, combine butter and egg in a cold stainless steel bowl until smooth.

2. Combine flour and salt. Gradually add the dry mixture to the egg mixture, a ½ cup (125 mL) at a time, working in the flour until the dough forms a soft ball and no longer sticks to your fingers. Cover dough and refrigerate overnight, or freeze for 30 minutes.

3. To make filling, heat oil in a heavy pot over high heat. Add ground meat and sauté, stirring occasionally, for 5 minutes or until the pinkness disappears. Drain off fat.

4. Stir in the onions, carrots, fennel, bay leaf, dried thyme, dry mustard, allspice, cinnamon, rolled oats and salt and pepper. Add enough stock to just cover the top of meat. Lower the heat to low, cover and cook slowly for about 45 minutes, or until the onions disappear. Check and stir after 30 minutes. Re-season if needed. Cool. Remove and discard bay leaf and stir in parsley.

5. Preheat oven to 450 ºF (230 ºC).

6. Flour the counter or pastry board heavily. With a floured rolling pin, roll the pastry out into a rectangle approximately 5 x 12-inches (12 x 30-cm), rolling away from you. Flour the pastry and fold into thirds. Turn the dough so the open edges face you, and roll out into a rectangle again. Repeat this procedure 5 more times. Divide the dough into 2 pieces.

7. Roll both pieces of dough out into 9 x 12-inch (23 x 30-cm) rectangles. Lay 1 sheet of pastry on a parchment-lined baking sheet. Sprinkle the bread crumbs or semolina over pastry base to absorb any fat.

8. Pile meat mixture onto bottom pastry crust, leaving a 1-inch (2.5-cm) border. Brush edge of pastry with water. Top with remaining piece of pastry and press edges together to seal, crimping decoratively if desired.

9. Combine beaten egg with cream and brush over pastry. Cut steam vents into the top crust.

10. Bake for 15 minutes in the lower half of the oven. Reduce heat to 400 ºF (200 ºC) and bake for another 15 to 20 minutes, or until the crust is golden. Cut in slices to serve with Tomato Ginger Chutney (recipe follows).

Tomato Ginger Chutney

This mouth-watering chutney can accompany any kind of pork, poultry or fish but is outstanding with the tourtiere.

2 tbsp (25 mL) vegetable oil
1 cup (250 mL) chopped onions
1 tsp (5 mL) chopped garlic
1 tbsp (15 mL) chopped ginger
One 796 mL can tomatoes, drained and chopped
¼ cup (50 mL) granulated sugar
¼ cup (50 mL) white vinegar
1 tbsp (15 mL) soy sauce
1 tsp (5 mL) hot Asian chili sauce or hot pepper sauce
2 tbsp (25 mL) chopped coriander
Salt and freshly ground pepper
1. Heat oil in a pot over medium heat. Add onions and sauté for 3 minutes or until softened. Stir in garlic and ginger and cook for 30 seconds.

2. Add tomatoes and cook until slightly softened. Stir in sugar, vinegar, soy sauce and Asian chili sauce, bring to boil, reduce heat and simmer for 25 minutes or until mixture thickens.

3. Remove from heat and stir in coriander and salt and pepper. Cool. Refrigerate for up to 2 weeks.
SHARE