Cornish Pasty
Early Summer 2015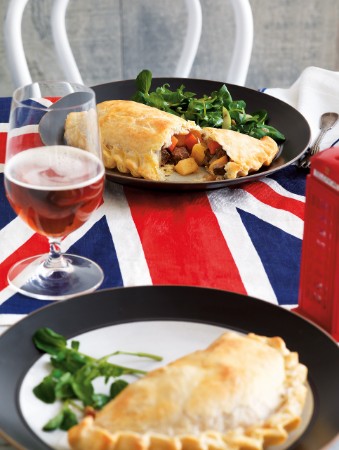 Cornish Pasty
Early Summer 2015
BY: Tonia Wilson-Vuksanovic
This is a classic dish from the county of Cornwall, located at the most southern tip of England. Though versions may vary, the mainstay ingredients are always beef, potato, onion and turnip.
PASTRY

3½ cups (875 mL) all-purpose flour
1 tsp (5 mL) salt
½ cup (125 mL) vegetable shortening, chilled
½ cup (125 mL) unsalted butter, chilled
1 cup (250 mL) cold water
1 egg, beaten

FILLING
1 lb (500 g) top sirloin, cut into
½ inch (1 cm) cubes
1½ cups (375 mL) potato, peeled and cut into just under ½ inch (1 cm) cubes
½ cup (125 mL) turnip, peeled and cut into just under ½ inch (1 cm) cubes
½ cup (125 mL) carrot, peeled and cut into just under ½ inch (1 cm) cubes
1 cup (250 mL) onion, cut into just under ½ inch (1 cm) cubes
2 tbsp (30 mL) Worcestershire sauce
2 tsp (10 mL) salt
Pepper to taste
4 tsp (20 mL) unsalted butter in total; 1 tsp (5 mL) per pasty
1 In a food processor, or by hand, pulse together the flour and salt. Add shortening and butter and pulse until the mixture resembles small, pea-size pieces. Have 1 cup (250 mL) cold water ready. With the processor running, add water to mixture until the dough begins to pull together; add a drop more water if needed, but do not add too much.

2 Turn dough out onto floured surface and knead until the dough is uniform. Cut into 4 equal pieces, wrap each with plastic wrap and refrigerate for at least 3 hours.

3 Preheat oven to 375°F (190°C).

4 In a large bowl, stir together beef, potato, turnip, carrot, onion, Worcestershire sauce, salt and pepper.

5 Roll out dough 1 piece at a time. Roll on a floured surface to a circle at least 10 inches (25 cm) wide. Using a dinner plate as a guide helps with cutting.

6 Use a pastry brush to brush some beaten egg around the edges of half the circle. This will help to seal the dough.

7 Place a quarter of the meat mixture in the middle of the circle of dough, top with 1 tsp (5 mL) butter and lift half of the circle up and over the meat. Close the pasty and seal the edges with a fork or by crimping the edges with your fingers. Make sure that the pasty is sealed well. Prick top of pasty with a fork to allow steam to escape.

8 Place pasty on a parchment-lined baking sheet and repeat process for the 3 remaining pasties. If a glossy finish is desired, beat an egg with 1 tsp (5 mL) water and brush over pasties before baking.

9 Bake pasties in oven for 45 minutes; let rest 5 minutes before serving with Watercress Apple & Walnut Salad (recipe follows).

WATERCRESS, APPLE &WALNUT SALAD

This salad is a fresh and crisp accompaniment to the pasties. Some added sweetness from the vinaigrette gives great balance for the pepperiness of the watercress.

1/3 cup (80 mL) walnuts, whole or pieces
6 cups (1.5 L) watercress, washed
½ cup (125 mL) Granny Smith apples, slivered
Cider Vinaigrette (recipe follows)
1 Preheat oven to 325°F (160°C).

2 Toast walnuts on a baking sheet for 15 minutes and once cool, coarsely chop.

3 In a large bowl toss together watercress, apples, walnuts and vinaigrette to taste.

CIDER VINAIGRETTE

This recipe will make more dressing than is needed for the salad. Keep leftovers in the refrigerator, and use within a couple of months.

2 tsp (10 mL) grainy mustard
2 tsp (10 mL) sugar
¼ tsp (1 mL) salt
¼ cup (60 mL) cider vinegar
½ cup (125 mL) vegetable oil
1 Whisk all ingredients together and store in an airtight jar.
SHARE