Spiced Lamb and Roasted Pepper Tarts with Dates, Goat Cheese and Harissa
Winter 2008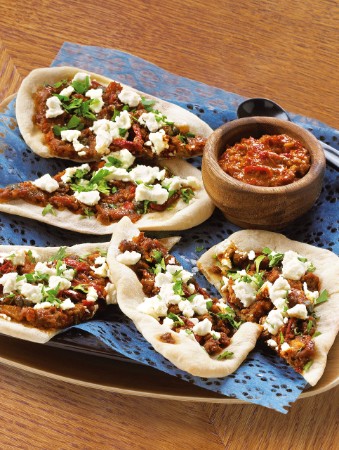 Spiced Lamb and Roasted Pepper Tarts with Dates, Goat Cheese and Harissa
Winter 2008
BY: Anna Olson
The flavour-building of spices, dried fruit and rich red meat creates layers that can bear the unctuous burden of a full-bodied red. These tarts are like little pizzas with an easy, tender yeast dough. Try slicing them in wedges for hors-d'oeuvres.
Harissa
2 tbsp (25 mL) extra virgin olive oil
1½ tsp (7 mL) ground cumin
1½ tsp (7 mL) ground coriander
1 red bell pepper, seeded and diced
2 cloves garlic, minced
2 tsp (10 mL) hot chili flakes
1 tsp (5 mL) sugar
Salt

Dough
½ cup (125 mL) tepid water
½ tsp (2 mL) instant yeast
¾ cup (175 mL) all-purpose flour
¼ cup (50 mL) pastry flour
½ tsp (2 mL) salt

Lamb Topping
1 tbsp (15 mL) extra virgin olive oil
8 oz (250 g) ground lamb
½ cup (125 mL) diced onion
2 cloves garlic, minced
1 tsp (5 mL) finely grated lemon zest
1 tsp (5 mL) ground cumin
1 tsp (5 mL) ground coriander
½ tsp (2 mL) ground cinnamon
1 cup (250 mL) sliced roasted peppers
¾ cup (175 mL) tomato purée
8 Medjool dates, pitted and chopped
2 tbsp (25 mL) capers
Salt and pepper
5 oz (150 g) fresh goat cheese
½ cup (125 mL) chopped Italian parsley
1. To make harissa, heat oil in a saucepot over medium heat and add cumin and coriander. Stir and cook spices for 1 minute. Add diced pepper, garlic, chili flakes and sugar and reduce heat to medium-low. Cook peppers, stirring often, until soft, about 10 minutes. Remove from heat and cool. Purée until smooth and season to taste. Chill until ready to serve.

2. To make dough, combine water and yeast, then stir in remaining ingredients. With a wooden spoon, vigorously mix dough to knead (add a touch more water or flour if needed―dough should be pliable and just a little sticky). Cover bowl with plastic wrap and set aside for 30 minutes.

3. To make lamb topping, heat oil in a sauté pan over medium heat and add lamb and onion. Sauté lamb until cooked and drain off excess fat. Add garlic, lemon zest and spices and cook 1 minute more. Stir in peppers, tomato purée, dates and capers and simmer until mixture thickens slightly, about 5 minutes, then season to taste. Let lamb mixture cool while rolling tart shells.

4. Preheat oven to 375°F (190°C) and line 2 baking trays with parchment paper.

5. Turn out dough on a lightly floured surface and divide into 8 pieces. With a floured rolling pin, roll out each piece of dough into an oval as thinly as possible, about 8-inches (20-cm) long and place on baking tray. Spoon and spread cooled lamb filling over crust, leaving just a ½-inch (1-cm) edge. Bake tarts for 12 to 15 minutes on the lower rack of the oven, until edges of dough are lightly browned. While still warm, crumble goat cheese over and sprinkle with parsley.

6. Serve tarts warm with a spoonful of harissa on the side.
Serves 8 as an appetizer, or 4 as a main course
SHARE