Belgian Endive Tart
Automne 2015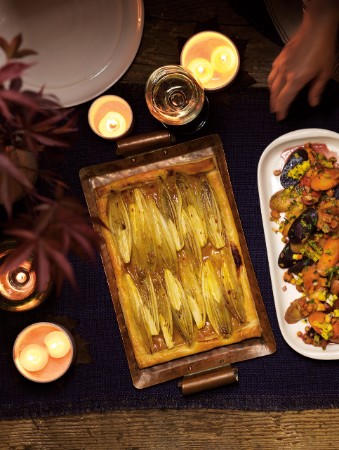 Belgian Endive Tart
Automne 2015
BY: Lucy Waverman
The contrast between the crisp pastry and soft, creamy endive makes this a tart to remember. It is also a good side dish with a plain roasted or grilled fish.
5 medium Belgian endives
2 tbsp (30 mL) butter
2 tbsp (30 mL) vegetable oil
1 tbsp (15 mL) sugar
1 cup (250 mL) chicken or vegetable stock
½ cup (125 mL) orange juice
¼ tsp (1 mL) chili flakes
Salt and freshly ground pepper
½ pkg (225 g) frozen puff pastry, thawed, cold
1 egg, lightly beaten
1 Trim endive spears and cut into quarters lengthwise. Heat butter and oil over medium heat in a large skillet. When butter is melted and foamy, sprinkle sugar over. Cook until sugar begins to turn brown, about 2 minutes. Add endives and sauté for about 1 to 2 minutes or until slightly browned. Add stock, orange juice and chili flakes and bring to a gentle simmer. Cook for 25 to 30 minutes or until endive is very tender and sauce is thick and syrupy. If sauce isn't thick enough, remove endives to a plate and continue reducing sauce. Season with salt and pepper. Set aside.

2 Roll out puff pastry on a lightly floured surface into a 10 x 12-inch (25 x 30-cm) rectangle, ⅛-inch (3-mm) thick. Place on a parchment-lined baking sheet. Cut a ½-inch (1-cm) border from the pastry (reserving strips). Brush the edges of the rectangle with egg wash, then place the reserved strips of pastry on the edges, forming a raised border. Brush with egg wash.

3 Preheat oven to 425°F (220°C).

4 Arrange endive in rows over pastry. Spoon over glaze. Bake in the lower third of oven for 10 to 15 minutes or until pastry is puffed and golden. Cool slightly and serve.
SHARE