Toscano Mushroom Manicotti with Spinach Béchamel Bake
Automne 2010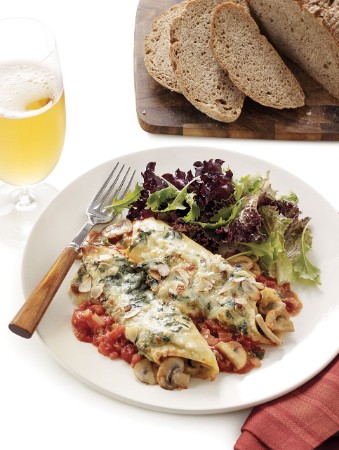 Toscano Mushroom Manicotti with Spinach Béchamel Bake
Automne 2010
BY: Sue Riedl
Pecorino Toscano originates in Italy and is made from sheep's milk. Its history dates back more than 2,500 years. In this recipe we are using Ontario Toscano from Monforte Dairy in Stratford. Its soft earthy depth makes it a great complement to the mushroom filling and its sweet milky notes work well with the toasted almonds. This dish looks impressive when assembled and is perfect served right at the table with a lightly dressed salad and some fresh bread. Both the sauce and filling can be made a day ahead.
TOMATO SAUCE
1 tbsp (15 mL) olive oil
1 cup (250 mL) diced onion
1 tbsp (15 mL) minced garlic
1 can (796 mL) diced tomatoes
⅓ cup (75 mL) tomato paste
Salt and pepper

SPINACH BÉCHAMEL
1 tbsp (15 mL) olive oil
1 bag (255 g) pre-washed spinach
2 cups (500 mL) whole milk
1 bay leaf
4 tbsp (60 mL) butter
3 tbsp (45 mL) flour
Pinch of nutmeg
Salt and pepper

MUSHROOM FILLING
2 tbsp (25 mL) butter
¼ cup (50 mL) diced shallots
1 lb (500 g) button mushrooms, fi nely chopped
1 tbsp (15 mL) fresh lemon juice
Salt and pepper
8 manicotti tubes
¼ lb (125 g) Monforte Toscano or
Italian Pecorino Toscano, 1 cup (250 mL) grated
1 tbsp (15 mL) shaved almonds
1. Heat oil in a medium pot over medium heat. Add onion and sauté until softened, about 3 to 4 minutes. Add minced garlic and sauté another minute. Add diced tomatoes and tomato paste and simmer over medium-high heat for 10 to 12 minutes or until reduced to a thickened sauce that coats the back of a spoon. Season with salt and pepper to taste.

2. Grease a 9 x 13-inch (23 x 33-cm) casserole dish and spread the tomato sauce over the bottom with a spoon. Set aside.

3. For spinach béchamel, heat oil in a large frying pan over medium-high heat and add the spinach. Sauté 3 to 4 minutes or until wilted and soft. Cool and squeeze out excess liquid. Roughly chop and set aside.

4. Heat milk in a small saucepan over medium heat until just bubbling. Add bay leaf and set aside to infuse for 10 minutes. Remove bay leaf.

5. Melt butter in a medium saucepan over medium heat. Add the flour and whisk until smooth, about 2 minutes. Gradually add the warm milk, whisking constantly, and whisk until all lumps are gone. Simmer until thickened and creamy and coats the back of a spoon, about 7 to 8 minutes. Remove from heat. Stir in nutmeg, then spinach until combined. Season with salt and pepper. Cover and set aside.

6. Make mushroom filling by melting butter in a large pan over medium-high heat. Add shallots and sweat for 2 to 3 minutes. Add mushrooms and cook for about 10 minutes or until there is no more liquid draining from the mixture and it is moist but thickened. Add lemon juice and season well with salt and pepper. Set aside.

7. Bring a large pot of salted water to a boil and cook manicotti until al dente, about 6 to 8 minutes or as per package directions. Remove from water and set aside to drain.

8. Preheat oven to 350°F (180°C).

9. To assemble the dish: Using a small coffee spoon, stuff each manicotti about three-quarters full (about 3 tbsp/45 mL) with the mushroom filling. Place in the casserole dish on top of tomato sauce, all in a row. Blanket the manicotti with the spinach béchamel. Sprinkle pasta with the grated Toscano cheese. Top with the shaved almonds.

10. Bake for 25 to 30 minutes until edges are bubbling; remove from oven. Adjust rack to top and raise oven temperature to 500°F (260°C) Put casserole back in oven for 2 to 3 minutes or until cheese and almonds turn golden.


SHARE