Tortello alla Trattoria Monti
Spring 2013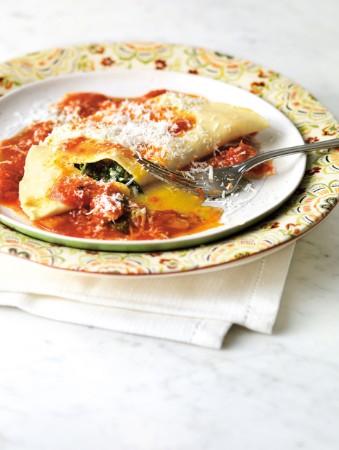 Tortello alla Trattoria Monti
Spring 2013
BY: Lucy Waverman
At Trattoria Monti, a famous family-run trattoria, we had a huge Tortello al Rosso d'Uovo, a ravioli-type pasta filled with ricotta, spinach and a deep-orange egg yolk that breaks as you cut into it. It's a decadent dish, so one tortello per serving is enough. You can serve it with either tomato sauce or butter and sage. Buy fresh pasta sheets to cut out your own tortelli. I also found that fresh Chinese egg-roll sheets worked but they did not make as big a tortello.
1 tbsp (15 mL) water
6 cups (1.5 L) packed baby spinach
½ cup (125 mL) ricotta
½ cup (125 mL) grated Parmesan
Salt and freshly ground pepper
4 sheets fresh pasta
4 egg yolks
1 egg beaten with a pinch of salt
1 cup (250 mL) Tomato Sauce (recipe follows)
¼ cup (60 mL) grated Parmesan
1 Heat 1 tbsp (15 mL) water in a medium pot over high heat. Add spinach and cook just until wilted. Drain and squeeze out any water. Coarsely chop. Mix with ricotta and ½ cup (125 mL) Parmesan and season well
with salt and pepper.

2 Place a sheet of pasta on the counter and, using a plate as a guide, cut a 6-inch (15‑cm) round with a sharp knife. Repeat until you have 4 rounds. Divide spinach-ricotta mixture into 4 portions. Spread 1 portion on 1 side of each round, leaving a small border. Make a well in mixture in the bottom third of
the round. Slip egg yolk into the well. Brush the edge with egg wash and fold over to make a half-moon shape. Seal edges, removing any air pockets.

3 Bring a large shallow pot of salted water to boil. Add tortelli carefully and cook for 3 minutes, making sure yolks remain runny. Immediately remove from pot and place on serving plates.

4 Drizzle tomato sauce around and sprinkle with Parmesan.
TOMATO SAUCE

A good basic tomato sauce to use with all pasta. Double the quantity and freeze half.

¼ cup (60 mL) olive oil
½ cup (125 mL) chopped onions
1 tsp (5 mL) chopped garlic
1 can (798 mL) San Marzano tomatoes, chopped with juice
2 basil leaves
Salt and freshly ground pepper
1 Heat oil in a sauté pan or wide pot on medium-low heat. Add onions and garlic. Cook slowly for about 10 minutes or until very soft. Add tomatoes and their juice. Raise heat, bring to boil, add basil leaves and simmer for 35 to 40 minutes or until sauce is thickened. Season with salt and pepper.
SHARE