Tomato and Goat Cheese Flowers
Summer 2005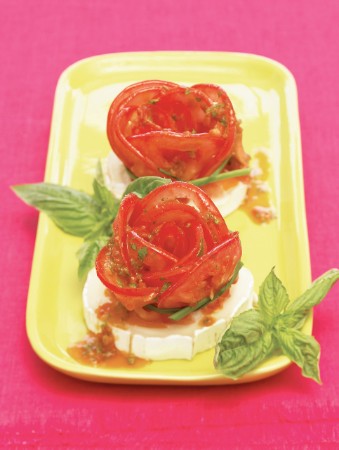 Tomato and Goat Cheese Flowers
Summer 2005
BY: Lucy Waverman
This dish looks fabulous but is really just a tomato salad. If you do not want to go to the trouble of making the flowers, lay the goat cheese on a platter, sprinkle with some vinaigrette and layer the tomatoes over top. Surround with dressing. Use a firm, not soft goat cheese. We used the French log called Rondon du Poitou, but any one will do.
Vinaigrette
½ cup (125 mL) cherry tomatoes, seeded
½ tsp (2 mL) ground coriander seed
¼ cup (50 mL) olive oil
2 tsp (10 mL) chopped basil
1 tsp (5 mL) sherry vinegar
Salt and freshly ground pepper

Salad
4 to 6 heirloom tomatoes, depending on size
8 oz (250 g) aged goat cheese
8 basil leaves
Olive oil
Salt and freshly ground pepper
1. Mix together vinaigrette ingredients and purée in food processor or blender until smooth. Reserve.

2. Use a serrated knife to slice tomatoes as thinly as possible. Cut goat cheese into 6 slices.

3. Use tomato to make 6 tomato roses: begin by rolling the small end piece into a cylinder (this is the centre of the rose). Wrap the next slice tightly around the centre, then the next slice overlapping the first one. Keep overlapping slices to form rose petals. Trim the bottom of the rose so that it will sit upright.

4. Drizzle vinaigrette over goat cheese. Top each slice with a tomato rose. Use basil leaves to make petals around the rose.

5. Continue using tomatoes and goat cheese until all are used up. Each person will have one stack. Drizzle a little olive oil over roses and season with salt and pepper.
SHARE