Tomato and Beet Yoghurt Soup
Early Summer 2008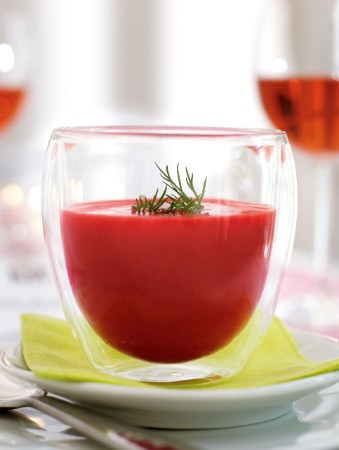 Tomato and Beet Yoghurt Soup
Early Summer 2008
BY: Dee Gibson, Gibson & Lyle, Caterer
The beets give this soup a wonderfully earthy taste, which is reminiscent of borscht. A nice complementary garnish is chopped dill. The serving sizes are small.
2 tbsp (25 mL) olive oil or vegetable oil
¼ cup (50 mL) chopped celery
½ cup (125 mL) chopped white onion
¼ cup (50 mL) chopped carrot
1 small red beet, peeled and grated
1 clove garlic, chopped
1 tbsp (15 mL) tomato paste
4 tomatoes, chopped
1½ cups (375 mL) chicken stock
Salt to taste
¼ cup (50 mL) yoghurt
1. Place oil in a pot over medium heat, add celery, onion, carrot, beets and garlic. Cook gently until translucent, about 5 minutes.

2. Add tomato paste and cook for 1 minute, then add chopped tomatoes and cover, cook for 4 to 5 minutes. Add chicken stock and salt. Bring soup to boil, reduce heat and simmer for 15 minutes. Remove from heat and cool.

3. Place soup in a blender and add yoghurt. Strain soup through a fine strainer to remove seeds and tomato skins. Serve hot or cold.
Serves 4 to 8 depending on size of glasses
SHARE