Tomato Tarte Tatin
Summer 2002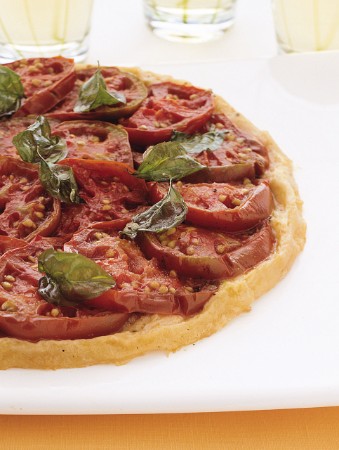 Tomato Tarte Tatin
Summer 2002
BY: Lucy Waverman
This is an upside down tomato tart where the pastry is partially prebaked and the tomatoes added later. Individual ones make great appetizers. Use a firm tomato as it cooks a little in the oven.
One package puff pastry, defrosted
1 tbsp (15 mL) olive oil
1 beaten egg
3 purple or red tomatoes
Salt and freshly ground pepper
2 tbsp (25 mL) pesto
1 tbsp /15 mL) cornmeal


Garnish
1 tbsp (15 mL) olive oil
12 basil leaves
2 tbsp (25 mL) balsamic glaze (recipe below)
1. Roll out puff pastry into a 10-inch (25-cm) circle. Chill for 30 minutes.
2. Preheat oven to 375°F (190°C). Oil base of a 9-inch (23-cm) nonstick skillet.
3. Place puff pastry in pan, fluting the edge. Prick pastry to let steam escape. Brush pastry with beaten egg.
4. Bake for 15 to 20 minutes or until pastry is pale gold. Remove from oven and slide onto serving plate. Oil pan again. Slice tomatoes and add to pan in one layer, slightly overlapping, in circles. Season with salt and pepper. Dot tomatoes with pesto. Sprinkle over cornmeal. Slide pastry back on top of tomatoes, baked side up. Bake 7 minutes longer or until tomatoes are slightly cooked. Flip over onto serving plate. If any tomatoes stick, remove and place on pastry.
5. Heat oil for garnish in skillet on medium heat. Add basil leaves and fry until crisp, about 30 seconds. Garnish tart with basil leaves and drizzle over balsamic glaze. Serve warm.


SHARE