Tomato Soup with Scallops and Orange
Winter 2006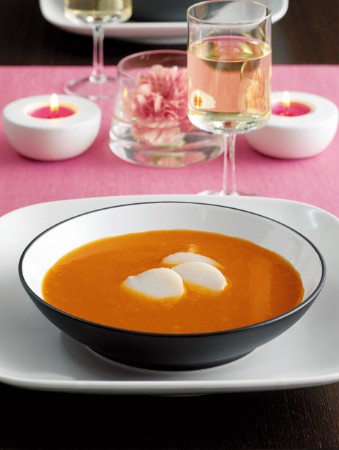 Tomato Soup with Scallops and Orange
Winter 2006
BY: Lucy Waverman
Making tomato soup with canned tomatoes is a compromise we have to make during most of the year because of the poor quality of imported fresh tomatoes, but this soup is still delicious
1 tbsp (15 mL) butter
½ cup (125 mL) chopped onion
¼ cup (50 mL) chopped carrot
1 cup (250 mL) canned tomatoes
1½ cups (375 mL) chicken stock
1 bay leaf
6 peppercorns
1 tsp (5 mL) granulated sugar
Salt to taste
2 tbsp (25 mL) whipping cream, optional
¼ tsp (1 mL) grated orange rind

Scallops
2 tbsp (25 mL) orange juice
2 tbsp (25 mL) water
2 tbsp (25 mL) white wine
2 large scallops
1. Heat the butter on medium heat in a large heavy pot. Add onion and carrot. Sauté until vegetables are slightly softened, about 2 minutes.

2. Add tomatoes, stock, bay leaf, peppercorns, sugar and salt. Bring to a boil, reduce heat to medium-low and simmer gently for 30 minutes. Remove the bay leaf.

3. Purée in a food processor or blender. Return to the pot, add cream and orange rind; bring to boil and simmer for 5 minutes.

4. Place orange juice, white wine and water in small pot. Bring to boil. Add scallops, cover and turn off heat. Leave on heat for 5 minutes. Remove scallops and cut each in three slices. Add poaching liquid to soup and stir together.

5. Serve soup with scallops floating on top.
SHARE