Tomato Fennel Soup with Tomato Olive Crostini
Temps des Fêtes 2007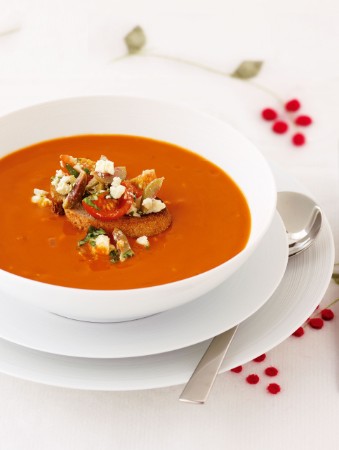 Tomato Fennel Soup with Tomato Olive Crostini
Temps des Fêtes 2007
BY: Heather Trim
Top crostini with the flavours of the Mediterranean, then set on a robust tomato soup.
½ cup (125 mL) cherry or grape tomatoes
8 olives, pitted and slivered
4 garlic cloves, minced
¼ cup (50 mL) slivered fresh basil
2½ tbsp (32 mL) olive oil
Generous pinches salt and pepper
2 tbsp (25 mL) crumbled feta (optional)
½ cup (125 mL) finely chopped onion
½ tsp (2 mL) fennel seeds

1 orange
Two 500 mL cartons tomato or red pepper with tomato soup
Pinch cayenne pepper
4 diagonally sliced pieces baguette, toasted
1. Slice tomatoes into quarters and place in a small bowl along with olives, 1 minced garlic clove, basil, 1½ tbsp (22 mL) olive oil, salt and pepper. Stir. Gently stir in feta, if using.

2. Heat remaining oil over medium heat. Add onion and cook 2 minutes. Add remaining minced garlic, fennel seeds and 2 wide strips of orange peel. Sauté until onion is tender, 1 to 2 more minutes. Add soup, ¼ cup (50 mL) juice from orange, and cayenne. Bring to a boil, reduce heat and simmer covered 10 minutes to blend flavours. Discard orange peel.

3. Ladle into shallow soup bowls. Divide tomato mixture onto each baguette slice. Place baguette onto soup (it's fine if some topping spills into soup).
SHARE