Tomato Bread Salad
Été 2006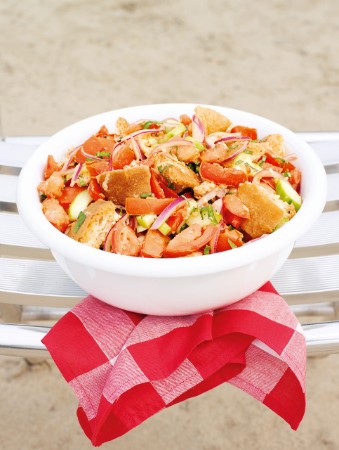 Tomato Bread Salad
Été 2006
BY: Jennifer McLagan
The success of this salad lies in the quality of ingredients used. The bread should not be too dense, the tomatoes the ripest possible and only the best quality olive oil will do. You don't need much dressing as the tomatoes' own juice is soaked up by the bread.
8 cups (2 L) day-old bread cut into 1½-inch (4-cm) cubes
4 large field tomatoes, cored and coarsely chopped
½ red onion, peeled and thinly sliced
1 small cucumber, peeled, seeded and diced
1 cup (250 mL) packed fresh basil leaves, slivered
¼ cup (50 mL) extra virgin olive oil
1 tbsp (15 mL) red wine vinegar
2 cloves garlic, peeled and minced
1 tsp (5 mL) kosher salt,
Freshly ground pepper
1. In a large bowl, toss bread, tomatoes, onion, cucumber and basil. Mix the oil, vinegar, garlic, salt and pepper, pour over the salad and toss again. Leave the salad at room temperature for at least 30 minutes or up to 2 hours before serving, tossing again 2 or 3 times.
SHARE