Tomato Bisque with Roasted Lobster
Holiday 2006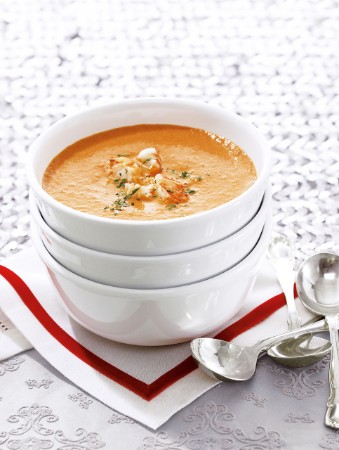 Tomato Bisque with Roasted Lobster
Holiday 2006
BY: Marilyn Bentz-Crowley
Winter tomatoes are plentiful but need roasting to concentrate flavours. This hearty soup has a thick, not-quite-smooth texture from the myriad vegetables used. Shrimp or scallops briefly poached in the hot soup can replace the lobster.
Lobster
Two 8 oz (250 g) lobster tails, defrosted if frozen
2 tsp (10 mL) butter

Soup
8 sun-dried tomatoes
4 cups (1 L) turkey or chicken stock or broth
2 lb (1 kg) very ripe plum tomatoes, about 12 medium
2 large sweet red peppers
2 shallots or 1 small onion
1 large garlic clove, unpeeled
1 tbsp (15 mL) olive oil
½ tsp (2 mL) salt
¼ tsp (1 mL) cayenne
2 tbsp (25 mL) dry sherry
1 cup (250 mL) whipping cream
2 tbsp (25 mL) finely chopped fresh parsley
Baguette
1. Preheat oven to 350ºF (180ºC).

2. Using scissors, cut lobster tails along the back almost to the tail; turn over and cut along each side to prevent tail from curling. Place back-side up (the side with the single cut) on a small ungreased baking sheet or shallow pan. Force sides together so lobster meat protrudes from shells. Dot with butter; roast 15 to 20 minutes or until shell is red and centre of lobster is hot and no longer grayish. Cool; then remove and discard shells. Coarsely chop lobster. (If serving later, cover and refrigerate for up to a day.)

3. To make soup, increase oven to 400ºF (200ºC).

4. Coat a large baking sheet with nonstick spray. Cut sun-dried tomatoes into strips and soak in stock while vegetables roast. Core unpeeled tomatoes; seed and cut in half. Cut peppers in half; core and seed. Peel and cut shallots in half or onion into quarters. Place vegetables cut-side down on a large baking sheet with sides; place unpeeled garlic clove in centre area of pan. Drizzle with olive oil. Roast, uncovered, for 30 to 35 minutes or until tomatoes are lightly browned and very soft. Remove peels from roasted tomatoes, garlic and peppers; discard.

5. Purée roasted vegetables and sun-dried tomatoes with stock in a food processor or blender. Whirl in salt, cayenne and sherry; add additional stock if needed for correct texture. Taste and adjust seasonings as needed. (Soup can be covered and refrigerated up to 3 days.)

6. Pour soup into a large saucepan; stir in cream. Heat over medium-low heat until very hot, but not boiling. Meanwhile divide lobster among warmed soup bowls; ladle in hot soup and garnish with a sprinkling of chopped parsley. Serve right away with baguette slices.
SHARE