Stuffed Tomatoes with Cheese & Artichokes
Printemps 2010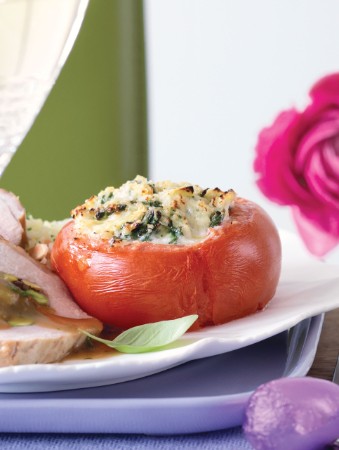 Stuffed Tomatoes with Cheese & Artichokes
Printemps 2010
BY: Marilyn Bentz-Crowley
While this is an elegant side dish at a feast, these luscious tomatoes can also serve as an entrée for vegetarians.
8 large firm-but-ripe tomatoes, each about 3 inches (8 cm) in diameter
Salt and freshly ground pepper
3 tbsp (45 mL) chopped fresh basil, divided
1 bag (227 g) fresh spinach
1 can (398 mL) artichoke hearts
1 cup (250 mL) ricotta cheese
1 large clove garlic, minced
Several gratings of nutmeg
¾ cup (175 mL) freshly grated Romano cheese
¾ cup (175 mL) freshly grated Parmesan cheese
1. Preheat oven to 425°F (220°C).

2. Cut top off tomatoes; finely dice tomato left around core. Using a paring knife and spoon (or a grapefruit spoon), scoop out tomato interior leaving a shell. Discard seeds and juice; dice remaining tomato interiors.

3. Combine diced tomato tops and interiors in bottom of an 8 x 8-inch (2-L) baking dish or other baking dish capable of holding tomatoes snugly. Season with pinches of salt and freshly ground black pepper; sprinkle with1 tbsp (15 mL) chopped basil. Set aside.

4. Wash spinach; pile into glass bowl and cover bowl with plastic wrap, venting one side. Microwave for 60 to 90 seconds or until wilted. Remove wrap; cool spinach until able to handle. Then squeeze handfuls dry over the sink; chop coarsely.

5. Coarsely chop well-drained artichokes and add to spinach; toss to combine. Add ricotta, garlic, ½ tsp (2 mL) salt, ½ tsp (2 mL) pepper and nutmeg. Stir in ½ cup (125 mL) each of Romano and Parmesan and remaining basil until mixed. Then stuff tomatoes with this vegetable mixture. Toss remaining grated cheeses together. Press into tops of stuffed tomatoes; place in dish. (Tomatoes hold, covered and refrigerated for several hours.)

6. Bake 30 minutes or until cheese is golden and tomatoes hot to the touch. (Add extra time for chilled stuffed tomatoes.) Spread a little of the diced tomato from dish on warmed serving plates. Top with tomato.
SHARE