Tomahawk Steak with Grilled Wild Mushrooms
Summer 2018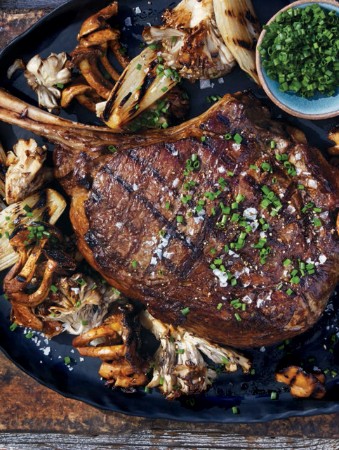 Tomahawk Steak with Grilled Wild Mushrooms
Summer 2018
BY: Michelle Rabin
A tomahawk steak is the king of steaks. Beautifully marbled with fat, bold and beefy in flavour, and cartoonish in size, it is a larger-than-life bone-in rib-eye steak with the characteristic feature of a long, exposed bone resembling the handle of an axe. Wow your crowd by pulling this Flintstones-style piece of meat off the grill. The skill here is cooking this 2½-inch thick (6-cm) steak perfectly to medium-rare. When topped with charred wild mushrooms and grilled shallots, the tomahawk steak is a true meat lover's showstopper.
2 to 2½ lbs (1 to 1.25 kg) tomahawk steak
3 tbsp (45 mL) kosher salt, divided
5 shallots, halved lengthwise
5 tbsp (75 mL) olive oil, divided
1½ lbs (680 g) assorted wild mushrooms such as chanterelles, oyster, black oyster, shiitake or Hen of the Woods
3 garlic cloves, minced
Fresh ground pepper
Maldon salt
⅓ cup (80 mL) chives, thinly sliced
1. Pat steak dry with paper towel. Generously season the steak on both sides with 2 tbsp (30 mL) salt. Place on a wire rack and refrigerate for 3 hours or up to 12 hours. Remove steak from fridge 1 hour before grilling. Wrap exposed bone with foil.

2. Toss shallots with 2 tbsp (30 mL) oil and 1 tsp (5 mL) salt. Toss mushrooms with remaining oil, garlic and 2 tsp (10 mL) salt. Season with pepper and set aside.

3. Preheat the grill to high. Pat steak dry. Grill over direct heat for 5 to 6 minutes per side, rotating the steak 90 degrees halfway through cook time. Flip steak and repeat.

4. Move steak over indirect heat and lower burners to medium and decrease barbecue temperature to about 350°F (180°C). Continue to cook until the internal temperature registers 130°F (54°C) on an instant-read thermometer, about 15 minutes, flipping halfway through. Remove from grill and let rest while preparing shallots and mushrooms (at least 15 minutes).

5. Place shallots cut-side down over direct heat. Cook until shallots are tender and deep brownish purple, about 20 minutes, rotating halfway through cook time.

6. Place mushrooms over direct heat. Grill until golden and crisp, rotating every few minutes. Total cook time depends on size of mushroom; for smaller mushrooms about 4 minutes, and 6 minutes for larger. (If the grates are too big for the small mushrooms, place a resting rack right over the grill.)

7. Slice steak into 1-inch-thick (2.5-cm) slices across the grain. Sprinkle Malden salt over slices. Garnish with grilled mushrooms, grilled shallots and fresh chives.
SHARE