Toasted Turkey Caesar Wraps
Holiday 2005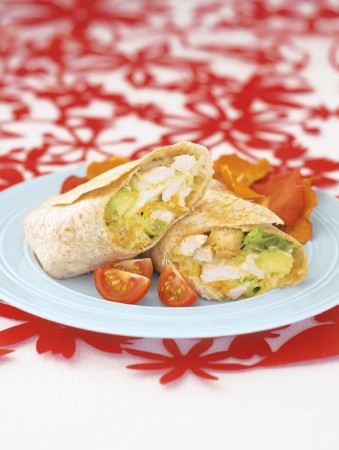 Toasted Turkey Caesar Wraps
Holiday 2005
BY: Emily Richards
Using turkey in place of chicken is common but using it in a Caesar salad isn't?especially if you make a wrap and toast it. No time to toast? Never mind?just wrap and enjoy right away!
1/3 cup (75 mL) light mayonnaise
2 tbsp (25 mL) lime juice
1 tbsp (15 mL) Dijon mustard
1 tsp (5 mL) Worcestershire sauce
1 tsp (5 mL) anchovy paste or 1 anchovy, minced
2 small cloves garlic, minced
½ tsp (2 mL) pepper
¼ tsp (1 mL) salt
4 cups (1 L) chopped romaine lettuce
2 cups (500 mL) chopped cooked turkey
1 avocado, chopped
1 cup (250 mL) croutons
½ cup (125 mL) grated marble cheddar cheese
6 large flour tortillas
1 tbsp (15 mL) vegetable oil
1. In small bowl, whisk together mayonnaise, lime juice, Dijon, Worcestershire, anchovy paste, garlic, pepper and salt until combined; set aside.

2. In large bowl, combine lettuce, turkey, avocado, croutons and cheese. Pour dressing over and toss well to coat. Divide mixture evenly in centre of each tortilla. Fold in 2 edges and roll up. Brush each lightly with oil.

3. Place in nonstick skillet over medium-high heat and brown, turning once for about 4 minutes or until golden and crisp. Let cool slightly and cut in half on the diagonal before serving.
SHARE