Toasted Spinach Ravioli
Spring 2015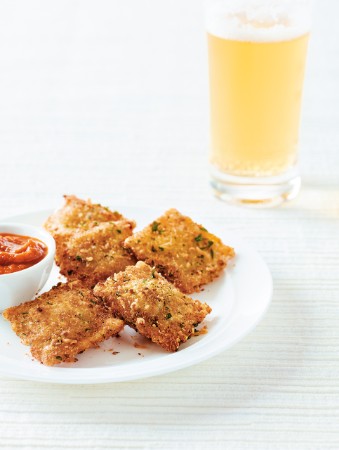 Toasted Spinach Ravioli
Spring 2015
BY: Tonia Wilson-Vuksanovic
These flavoursome morsels are much less work than they appear. If you wish, they can be breaded a day ahead and cooked just before serving.
2 large eggs
½ cup (125 mL) milk
¾ cup (175 mL) Italian-style bread crumbs
1 tbsp (15 mL) fresh parsley, finely chopped
¼ cup (60 mL) finely grated Pecorino Romano, or parmigiano cheese
24 fresh bite-size spinach ravioli (works best with store-bought ravioli)
1 to 2 cups (250 to 500 mL) vegetable oil
1 In a medium bowl, whisk together eggs and milk until well combined.

2 In a second medium bowl, stir together bread crumbs, parsley and cheese.

3 Working in batches of 4, dip each ravioli into egg mixture, let excess drip off, and place into bread crumbs. Cover ravioli with bread crumbs and press gently for the crumbs to adhere. Place breaded ravioli on a baking sheet and continue to bread the rest until all 24 are finished.

4 In a large pot or high-sided skillet, heat 1 cup (250 mL) oil over medium heat. When a bread crumb sizzles in the oil, it is ready. Place 5 to 6 ravioli into oil, cook until lightly golden on each side, about 1 minute per side. Place cooked ravioli on a paper-towel-lined plate and continue cooking the remaining ravioli, adding more oil if needed.

5 Serve ravioli warm with the Sun-Dried Tomato & Green Olive Dip (recipe follows).
SUN-DRIED TOMATO &GREEN OLIVE DIP

Serve the sauce with a spoon, as a dip, or spread on individual plates topped with the ravioli for a more formal presentation. Leftover dip is delicious on pasta.

1 can (398 mL) diced tomatoes, not drained
½ cup (125 mL) sun-dried tomatoes, dried or in oil
½ cup (125 mL) pitted green olives
1 tbsp (15 mL) olive oil
½ tsp (2 mL) sugar
1 whole garlic clove, peeled
½ cup (125 mL) water
1 Place all ingredients in a small saucepan along with the water. Cover and bring to boil, reduce heat, and let simmer over low heat for 30 minutes.

2 Let cool slightly and purée in food processor or blender until smooth. Serve at room temperature.
Makes about 2 cups (500 mL)
SHARE