Tilapia with Pumpkin Seed Crust
Autumn 2007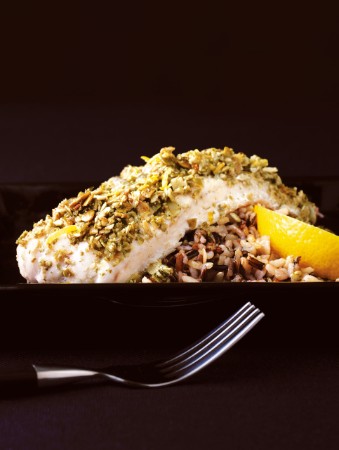 Tilapia with Pumpkin Seed Crust
Autumn 2007
BY: Marilyn Bentz-Crowley
Here's a simple 'company-is-coming' or after-work-entrée that works with a variety of white-fleshed fish. Start the meal with classic lemony Caesar salad and serve fish with a medley of wild or Wehani rice and colourful grilled peppers.
1½ lbs (750 g) fish fillets such as tilapia, haddock or pickerel
2/3 cup (150 mL) green pumpkin seeds
2 tsp (10 mL) hazelnut, walnut or olive oil
½ tsp (2 mL) salt
2 tsp (10 mL) butter
1 lemon
1. Preheat oven to 350°F (180°C).

2. Coat a shiny stainless-steel or aluminum baking pan with nonstick spray. Pat fish dry with paper towels; lay skin-side down and somewhat apart on pan. Tuck under thin tail sections to even out thickness.

3. Add seeds, oil and salt to food processor; whirl until coarsely chopped. Evenly spread over fish fillets. Dot with tiny pieces of butter. (If making ahead, tightly cover with plastic wrap; store low-down and towards the back of the refrigerator for up to half a day.)

4. Bake in oven for 12 to 18 minutes or until the thickest part of the fish flakes easily with a fork.

5. Meanwhile, cut lemon in half lengthwise. Slice 1 piece into 4 wedges; remove seeds and set aside. Using a rasp, zest remaining half. Scatter zest over hot fish. Serve immediately with lemon wedges to squeeze juice over top.
SHARE