Thyme-Roasted Jerusalem Artichokes
Autumn 2006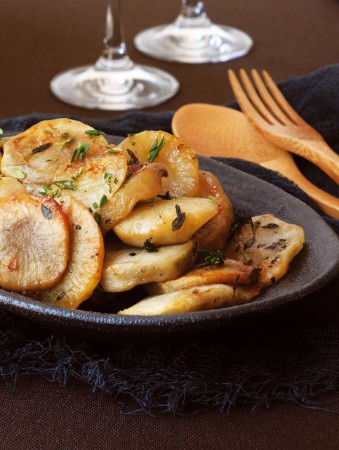 Thyme-Roasted Jerusalem Artichokes
Autumn 2006
BY: Jennifer McLagan
This makes a great simple side dish for both meat and fish dishes.
1½ lb (750 g) Jerusalem artichokes
2 tbsp (25 mL) unsalted butter
2 tbsp (25 mL) olive oil
Juice of 1 lemon
4 large sprigs fresh thyme
2 tsp (10 mL) fresh thyme leaves
Salt and freshly ground pepper
1. Preheat the oven to 350ºF (180ºC).

2. Peel the Jerusalem artichokes and cut into similar-size pieces.

3. Place a roasting pan over medium heat and add the butter and olive oil. When the butter is melted, add the Jerusalem artichokes. Pour over the lemon juice and add the thyme and season well with salt and pepper. Stir to coat the Jerusalem artichokes with the mixture.

4. Place in the oven and roast, stirring occasionally, for 45 minutes or until the Jerusalem artichokes are tender.
SHARE