Thyme Roasted Portobello, Ricotta and Cauliflower Lasagna
Holiday 2007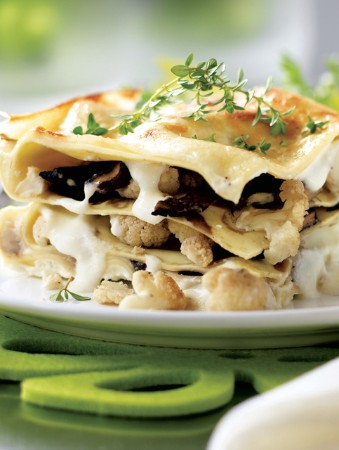 Thyme Roasted Portobello, Ricotta and Cauliflower Lasagna
Holiday 2007
BY: Lucy Waverman
Lora loves pasta and likes to make her own. However, if you buy fresh pasta this becomes a much easier dish to prepare. Make ahead of time and reheat when you want it.
½ bunch of fresh thyme
8 large portobellos, stems removed
6 cups (1.5 L) small cauliflower florets
½ cup (125 mL) olive oil
Salt and freshly ground pepper
4 cups (1 L) béchamel sauce (recipe below)
6 sheets fresh pasta dough
½ cup (125 mL) grated Parmesan cheese
1. Preheat oven too 400°F (200°C).

2. Place thyme, portobello mushrooms and cauliflower in a large bowl and toss with olive oil to coat. Arrange mushrooms, top down on a baking sheet and season with salt and pepper. Place cauliflower on same baking sheet and roast until tender, about 15 to 20 minutes. Cool and cut mushrooms into slices.

3. Reduce oven temperature to 350°F (180°C).

4. To assemble lasagna, spread ½ cup (125 mL) béchamel sauce over bottom of a buttered 9-inch (23-cm) rectangle lasagna pan. Cut pasta sheet to fit baking dish and place over sauce. Generously cover pasta with more béchamel sauce. Cover with a layer of roasted mushrooms and cauliflower florets and another sheet of pasta. Repeat until you reach the top of the baking dish (you should have 6 layers). The last layer will be a pasta sheet, covered with sauce and sprinkled with Parmesan cheese.

5. Bake lasagna until top is golden brown and sauce is bubbling, about 35 to 45 minutes. Let lasagna stand for about 20 to 30 minutes before serving.

Béchamel Sauce

3 tbsp (45 mL) unsalted butter
1 garlic clove, minced
2 tbsp (25 mL) all-purpose flour
3 cups (750 mL) whole milk, heated
¾ tsp (4 mL) salt
⅛ tsp (0.5 mL) black pepper
1 cup (250 mL) ricotta cheese
½ cup (125 mL) mascarpone cheese
1. Heat butter and garlic in a heavy-bottom saucepan over moderately low heat until melted. Add flour to form a loose paste (roux) and cook over low heat, whisking, for about 3 minutes or until flour is cooked but not golden.

2. Add hot milk in a fast stream, whisking vigorously. Bring to a boil, whisking, about 10 to 15 minutes. Reduce heat and simmer, whisking occasionally, for 10 minutes. Add salt and pepper.

3. Remove from heat and whisk in ricotta and mascarpone cheese.
SHARE