Three-Pea Compote
Early Summer 2009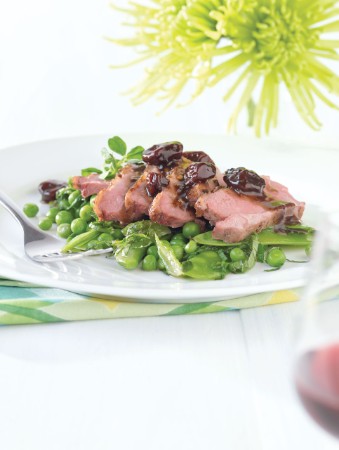 Three-Pea Compote
Early Summer 2009
BY: Lucy Waverman
Lovely presented with the duck, this is a mixture of different peas served together. You could include edamame and you could also use frozen peas (but do not defrost before cooking).
1 tbsp (15 mL) olive oil
2 cups (500 mL) chopped Boston lettuce
3 green onions, chopped
3 oz (90 g) sugar snaps, stem ends and strings removed
1⁄4 cup (50 mL) chicken stock
3 oz (90 g) snow peas
1 cup (250 mL) green peas
Salt and freshly ground pepper
2 tbsp (25 mL) chopped mint
1. Heat oil in a skillet over medium heat. Add lettuce and green onions and stir-fry for 1 minute or until wilted.

2. Add sugar snaps and stock. Cover and cook for 2 minutes or until tender-crisp. Add snow peas and simmer another 2 minutes. Stir in green peas and cook 1 minute longer. There should be hardly any liquid remaining. Season with salt and pepper, and stir in mint.
SHARE