Three-Onion Soup
Autumn 2010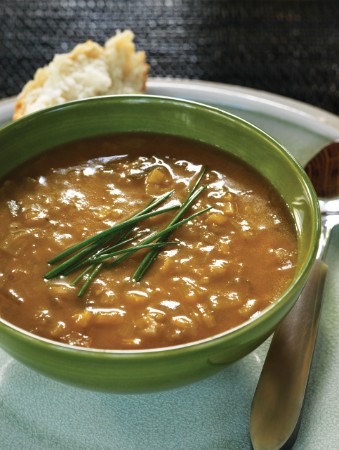 Three-Onion Soup
Autumn 2010
BY: Jennifer MacKenzie
This is a lighter, more delicate version of traditional French onion soup, making it a nice starter for a hearty autumn meal. The flavour will benefit from being made ahead so you can have it ready and waiting to reheat just before serving. After step 2, let it cool, cover and refrigerate it for up to 2 days. Reheat to steaming before serving.
2 tbsp (25 mL) butter or olive oil
3 leeks, white and light green parts only,
thinly sliced
1 red onion, quartered lengthwise
and thinly sliced
Salt and coarsely ground pepper
¼ cup (50 mL) brandy or dry red wine
4 cups (1 L) beef, chicken or vegetable stock
(preferably reduced-sodium)
3 cups (750 mL) water
2 bay leaves
¼ cup (50 mL) chopped fresh chives
1. Melt butter in a large pot over medium heat. Add leeks, red onion, ½ tsp (2 mL) salt and ½ tsp (2 mL) pepper and sauté for 2 minutes or until starting to soften. Reduce heat to low and cook, stirring often, for about 45 minutes or until golden.

2. Increase heat to high. Add brandy and stir to scrape up any brown bits stuck to pan. Cook until almost evaporated. Stir in stock, water and bay leaves and bring to a boil. Reduce heat and boil gently, uncovered, for about 30 minutes or until reduced by about one-quarter and flavour is rich. Discard bay leaves.

3. Season soup with salt and pepper to taste.Ladle into warmed bowls and sprinkle with chives.
SHARE