The Vrai French Gratin of Potatoes
Holiday 2013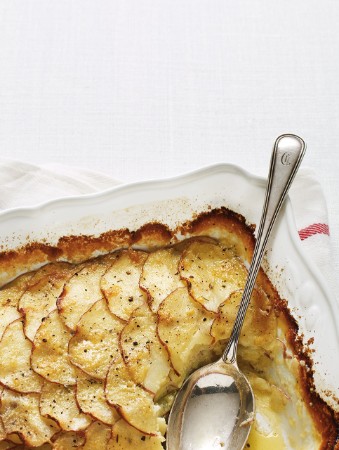 The Vrai French Gratin of Potatoes
Holiday 2013
BY: Lucy Waverman
The French have always made superb gratins. In fact, memories of luscious, rich gratins served with meats in France still linger in my taste memory. This gratin is reminiscent of those indulgent dishes, but you can use less cream and add more milk for a less rich dish. I have made this without peeling the potatoes, which is a perfectly acceptable practice.
GRATIN
Butter for gratin dish
1 garlic clove, cut in half
½ cup (125 mL) butter, melted
1 tbsp (15 mL) chopped garlic
1 tsp (5 mL) chopped fresh thyme
2 lbs (1 kg) red-skinned potatoes, peeled and thinly sliced on a mandolin or by hand
Salt and freshly ground pepper
1 cup (250 mL) milk
1 cup (250 mL) whipping cream

TOPPING
1 tbsp (15 mL) butter, melted
1 Preheat oven to 350°F (180°C).

2 Butter the base and sides of a rectangular 8-cup (2-L) gratin dish large enough to hold the potatoes in layers. Rub with whole garlic clove. In a separate bowl combine melted butter, chopped garlic and thyme.

3 Layer potatoes into the dish, mounding slightly in the centre. After each layer, spoon a small amount of the butter garlic mixture overtop and season with salt and pepper. Finish with a layer of potatoes.

4 Heat milk and cream together until simmering. Season with a little salt and pepper. Pour over gratin. Liquid should come just to the top layer but not cover the potatoes. Drizzle with extra butter.

5 Bake for 1 to 1½ hours or until potatoes are tender and browned on top.

VARIATIONS

• Sprinkle goat cheese between the layers.

• Layer onions and tomatoes between layers.

• Use stock instead of cream.

• Make it cheesy with 2 cups (500 mL) cheddar sprinkled between layers.
SHARE