The Reubenesque Sandwich
Early Summer 2017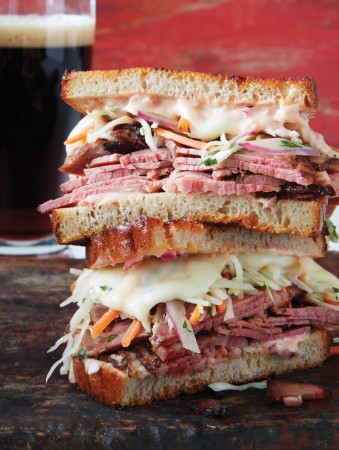 The Reubenesque Sandwich
Early Summer 2017
BY: Zane Caplansky, Caplansky's Deli
Use hot meat when assembling the sandwich to make sure the cheese melts. The runnier the cheese, the better the results. Substitute sauerkraut for the coleslaw, if you prefer.
12 oz (375 g) sliced smoked meat, warmed

RUSSIAN DRESSING
¼ cup (60 mL) finely diced red onion
¼ cup (60 mL) mayonnaise
2 tbsp (30 mL) ketchup
2 tbsp (30 mL) prepared horseradish
1 tbsp (15 mL) pickle juice
Pinch nutmeg
Salt and freshly ground pepper
4 slices rye bread
½ cup (125 mL) coleslaw
4 oz (125 g) Emmenthal cheese, sliced


1 Preheat oven to 350°F (180°C). Wrap meat in foil and place on a baking sheet. Bake for 8 to 10 minutes or until hot.

2 While meat is heating, prepare dressing. Combine onion, mayonnaise, ketchup, horseradish, pickle juice and nutmeg. Season with salt and pepper.

3 Heat a large skillet over medium-low heat.

4 Make both sandwiches at the same time. Spread an even layer of dressing on both sides of bread. Pile on smoked meat, coleslaw and cheese. Place in pan, and toast until cheese is melted and bread is golden brown, turning over once, about 2 to 3 minutes per side. Press down occasionally. Remove from pan when sandwich is hot and cheese is melted. Cut in half and serve immediately.
SHARE