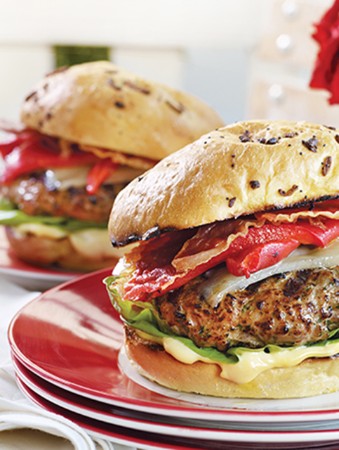 BY: Julia Aitken
Chorizo sausage, crisp serrano ham and saffron-spiked mayonnaise add Spanish flair to these sophisticated burgers. Ground pork makes the burgers particularly juicy but, if you prefer, substitute ground chicken.
4 thin slices serrano ham

SAFFRON MAYO
¼ tsp (1 mL) crumbled saffron threads
1 tbsp (15 mL) warm water
½ cup (125 mL) mayonnaise

BURGERS
¾ lb (375 g) uncured (raw) chorizo sausage
¾ lb (375 g) ground pork
¼ cup (60 mL) finely chopped fresh parsley
1 tbsp (15 mL) finely chopped fresh thyme leaves
1 tsp (5 mL) sweet smoked paprika
¼ tsp (1 mL) each kosher salt and black pepper
3 oz (90 g) Manchego cheese, thinly sliced
4 onion buns
Washed and dried Boston lettuce leaves
⅔ cup (150 mL) drained sliced roasted peppers
1 Preheat oven to 400°F (200°C).

2 Lay ham slices in a single layer on a parchment-paper-lined baking sheet. Place a second piece of parchment paper over ham and top with a second baking sheet. Bake for 8to 10 minutes until ham is crisp. Let cool on a wire rack set over a plate.

3 In a medium bowl, sprinkle saffron over warm water. Let stand for 15 minutes. Stir in mayonnaise until well combined.

4 Slit sausage skins and crumble sausage meat into a large bowl. Add ground pork, parsley, thyme, paprika, salt and pepper, and mix gently but thoroughly until well combined. Form sausage mixture into 4 even-size patties about ½ inch (1 cm) thick. With the heel of your hand, make an indentation in centre of each patty (this helps burgers cook more evenly).

5 Preheat barbecue to medium.

6 Cook patties on well-oiled grill for 10 to 12 minutes, turning once, until a meat thermometer inserted horizontally in centre of burgers registers 170°F (76°C). Just before burgers are ready, top each burger with one-quarter of Manchego cheese. Split onion buns in half horizontally and toast, cut-side down, until golden.

7 Spread bottom halves of buns with saffron mayo. Top with Boston lettuce leaves. Add a burger to each bun, along with roasted peppers and a slice of serrano ham. Replace tops of buns.
SHARE