The Creamiest Mashed Potatoes
Holiday 2016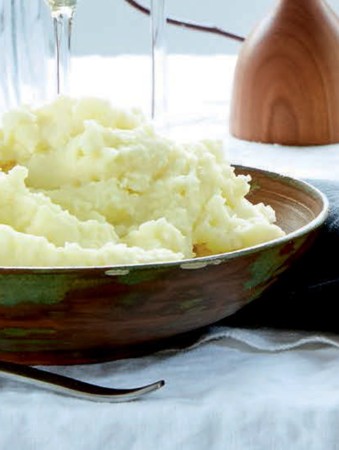 The Creamiest Mashed Potatoes
Holiday 2016
BY: Jennifer MacKenzie
Rich, creamy and buttery—everything mashed potatoes should be. Avoid temptation to use a power tool to mash the potatoes as that tends to make them gluey rather than fluffy. A ricer, food mill or hand masher are the best tools for super smooth potatoes, and perhaps a human kitchen helper to pitch in with the mashing. These are creamiest when cooked and mashed, then served right away.
4 lbs (2 kg) yellow-fleshed potatoes
Salt
1 cup (250 mL) 35% whipping cream
¾ cup (175 mL) sour cream (14% MF)
¼ cup (60 mL) butter
Freshly ground pepper
1 Peel potatoes and cut into chunks. In a large pot, cover potatoes with cold water and bring to a boil. Season water with salt. Reduce heat and simmer for about 20 minutes or until fork-tender.

2 Meanwhile, in a small saucepan, combine whipping cream, sour cream and butter. Heat on medium-low heat for about 3 minutes, stirring until smooth and steaming (alternatively, combine in a glass measuring cup and heat on medium-low/30% power in the microwave in 1-minute increments, stirring in between, just until steaming).

3 Drain potatoes and return to the pot over low heat. Dry potatoes, shaking pot, for 1 minute. Remove from heat and, using a ricer or food mill, press potatoes into a bowl, then return to warm pot (or, using a hand masher, mash potatoes in the pot). Gradually stir in heated cream mixture until smooth and blended. Season to taste with salt and pepper. Serve immediately.
SHARE