The Boys' Grilled Strip-Loin Steak
Early Summer 2015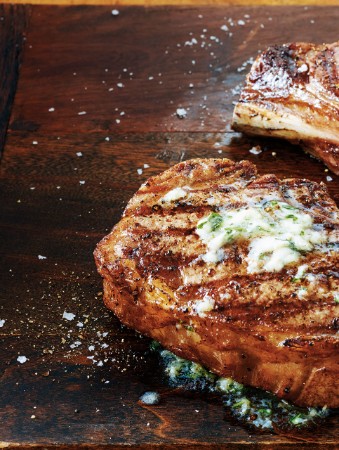 The Boys' Grilled Strip-Loin Steak
Early Summer 2015
BY: The Van Groningen Brothers
This is New York Sirloin Steak on the bone—and what a difference that makes to the taste! Slice the steak before serving and serve all the dishes family style.
2 bone-in strip-loin steaks, 2 inches (5 cm) thick
2 tsp (10 mL) coarsely ground sea salt or to taste
2 tbsp (30 mL) grape-seed oil
1 Pat the steaks dry with paper towels. Season both sides of the steak with salt and allow to sit unrefrigerated for 1 hour.

2 Pat the steak dry again, rub with grape-seed oil to coat.

3 Preheat one side of grill to high and the other side to low. Sear steak on hot side of grill 3 to 4 minutes per side or until well browned. Transfer to low-heat side of the grill and continue to cook to desired doneness, about 10 to 15 minutes longer. (Try to keep grill temperature around 350°F (180°C).

4 Remove from grill and rest the steak for about 7 minutes before slicing and topping with Dennis' Horseradish & Parsley Butter (recipe follows).

DENNIS' HORSERADISH & PARSLEY BUTTER
Dennis' (www.dennishorseradish.com) is the only purveyor of local horseradish in Ontario. The farm is in Norfolk County where VG Meats is based. The Van Groningens always use his horseradish to make the butter. We doubled the recipe and froze half.

½ cup (125 mL) softened butter
1 tbsp (15 mL) Dennis' prepared horseradish (or more to taste)
1 tbsp (15 mL) minced garlic
1 tbsp (15 mL) chopped parsley
1 Mash all ingredients together with a fork until well blended. Keep refrigerated until needed.
SHARE