The Best Eggplant Sandwich
Summer 2018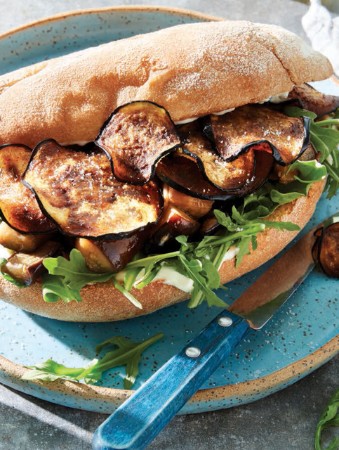 The Best Eggplant Sandwich
Summer 2018
BY: Christopher St. Onge
Ontario eggplant and garlic show up in markets at about the same time. It's fitting then to make a sandwich of the two. This is a full-on, pungent sandwich with real grown-up flavours. It's perfection with a glass of rosé or a cold beer. Use good-quality mayonnaise and not anything labelled "dressing."
2 cloves fresh Ontario garlic, finely chopped
1 cup (250 mL) mayonnaise
1 large eggplant, about 2 lbs (905 g)
1 tsp (5 mL) salt, plus extra for seasoning
Olive oil for frying
2 cloves fresh Ontario garlic, thinly sliced
2 tbsp (30 mL) sherry or red wine vinegar
½ tsp (2 mL) sugar
Freshly ground black pepper
2 small eggplants, each 6 to 7 oz (170 to 205 g)
4 torpedo-shaped Italian buns, split, lightly toasted
4 cups (1 L) arugula, roughly chopped if large
1. Combine finely chopped garlic and mayonnaise; cover and refrigerate until ready to assemble the sandwiches.

2. Chop large eggplant into 1-inch (2.5-cm) pieces. Place in a colander, sprinkle with salt and leave to drain in the sink for 30 minutes. Turn out onto paper towel and pat dry.

3. Heat a depth of ⅛ inch (3 mm) olive oil in a large skillet over medium heat. Once shimmering, add sliced garlic and fry until slices are light golden, about 2 minutes. Remove with a slotted spoon and transfer to a large heatproof bowl.

4. Return skillet to heat; add chopped eggplant pieces and fry, undisturbed for 5 minutes. Gently stir and continue cooking for an additional 15 to 18 minutes, stirring from time to time, until golden and tender; turn out into bowl with garlic.

5. Meanwhile, combine vinegar and sugar; pour over warm eggplant. Gently toss to combine; season to taste with pepper and additional salt if necessary. Set aside.

6. Thinly slice small eggplants. Return skillet to heat and refresh oil to a depth of ⅛ inch (3 mm). Once shimmering, add slices in a single layer, working in batches if necessary; fry for 2 to 3 minutes per side or until crisp and golden. Remove to a baking sheet lined with paper towel to drain; season with salt while still warm.

7. To assemble sandwiches, spread a thin layer of the garlic mayonnaise on each of the bun halves; top bottom buns with an equal amount of arugula, then divide the vinegar-dressed eggplant over the greens. Top each with an equal amount of the crispy eggplant rounds and top with remaining bun halves.
SHARE