Thai Spiced Pot Au Feu
Autumn 2000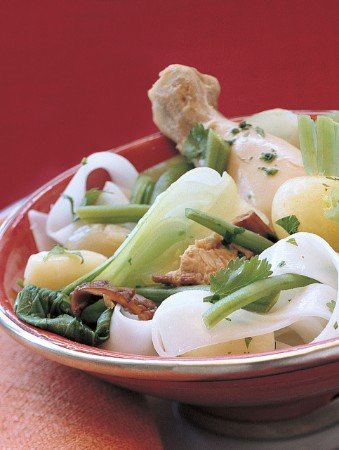 Thai Spiced Pot Au Feu
Autumn 2000
BY: Lucy Waverman
Similar to the French classic chicken in a pot, this Thai version packs lots of punch and at the same time is low in fat. Substitute other vegetables if desired. Serve with store-bought Asian hot sauce and soy sesame sauce as great dips for the chicken.
8 cups (2 L) chicken broth
4 slices ginger
4 makrut lime leaves or 1 tbsp (15 mL) grated lime rind
2 stalks lemongrass, 2-inch (5-cm) stem end only, slightly crushed
1 fresh chili, seeded
2 chicken legs, on the bone, skin removed
2 chicken breasts, on the bone, skin removed
8 shallots, peeled
8 garlic cloves, peeled
4 oz (125 g) green beans, trimmed and cut in half
4 baby bok choy
4 Chinese mushrooms, soaked in hot water for 20 minutes, stems removed, sliced
1 bunch baby turnips, tops removed and halved (optional)
1 tbsp (15 mL) lime juice, or to taste
1 tbsp (15 mL) fish sauce, or to taste
Salt and freshly ground pepper
8 oz (250 g) rice noodles, soaked in hot water for 20 minutes
2 tbsp (25 mL) chopped fresh coriander
1. In a large pot simmer chicken broth, ginger, lime leaves, lemon grass and chili for 20 minutes. Strain. Reduce heat to medium-low.

2. Add chicken and poach gently for 15 minutes. The liquid should be barely simmering. Add shallots and garlic and poach 15 minutes more. Remove chicken and set aside, covered.

3. Add green beans, bok choy, mushrooms and turnips to stock and simmer for 5 minutes or until just cooked. Remove vegetables and set aside.

4. Stir in lime juice, fish sauce, salt and pepper to broth. Add noodles and heat. Divide noodles between 4 individual soup bowls. Return chicken and vegetables to stock to reheat. Top noodles with equal amounts of chicken and vegetables and pour over a little stock to moisten. Garnish with chopped coriander. The remaining stock may be served separately as a soup, if desired.
SHARE