Thai Shrimp with Lemon Grass, Chili and Basil
Printemps 2004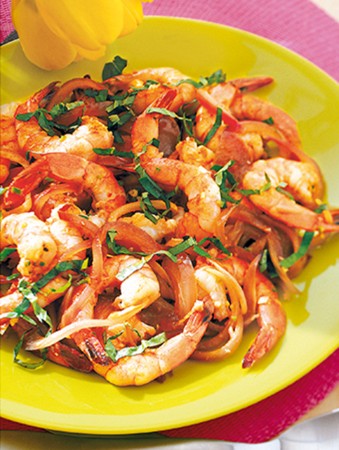 Thai Shrimp with Lemon Grass, Chili and Basil
Printemps 2004
BY: Lucy Waverman
A sweet tangle of onions and shrimps with spicy undertones makes this an exceptional dish. Use a large shrimp to protect against overcooking. The heat in this dish is personal preference. Making it less hot allows the delicate lemongrass taste to come through.
2 stalks fresh lemongrass
1 tbsp (15 mL) fresh minced garlic
1/4 cup (50 mL) fish sauce
1 to 2 tsp (5 to 10 mL) Thai chili sauce or 1 green chili, chopped
2 tbsp (25 mL) vegetable oil
1 lb (500 g) shrimp, shelled
Salt and freshly ground pepper to taste
2 red onions, thinly sliced
1 tbsp (15 mL) sugar
1 tbsp (15 mL) lime juice
1/2 cup (125 mL) slivered basil
1. Discard outer leaves of lemongrass. Cut off stalks just above bulb. Discard stalks and chop bulb finely. This should measure about 2 tbsp (25 mL).
2. In a bowl combine lemongrass, half of garlic, 2 tbsp (25 mL) fish sauce, chili sauce and 1 tbsp (15 mL) oil. Stir in shrimp, season with salt and pepper and marinate for 30 minutes.
3. In a wok or skillet, add remaining 1 tbsp (15 mL) oil on medium-high heat. Add onions and remaining garlic and stir-fry for 6 minutes or until onions turn golden.
4. Add shrimp and marinade, remaining 2 tbsp (25 mL) fish sauce and sugar. Stir-fry for 2 minutes or until shrimp is just cooked. Add lime juice and basil. Continue to cook for about 1 minute or until basil is wilted. Serve at once.
SHARE