Thai Seafood Cakes
Holiday 2012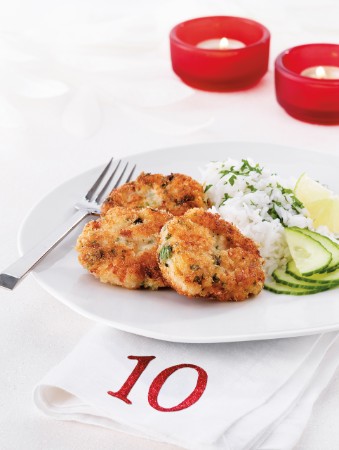 Thai Seafood Cakes
Holiday 2012
BY: Marilyn Bentz-Crowley
Street food in Thailand includes many varieties of small, juicy seafood cakes. This combination uses halibut and shrimp, but ones made with lobster are delicious too. Feel free to experiment with what is on hand. These small cakes can easily become a sit-down appetizer or a cocktail nibble. A seeded and minced tiny red bird pepper, if available, can replace the hot sauce, but use it judiciously as bird peppers are extremely spicy.
12 oz (375 g) halibut or other lean white fish, defrosted and cut into chunks
12 oz (375 g) small raw shrimp, defrosted and tails removed
1½ to 2 cups (375 to 500 mL) panko bread crumbs, divided
¼ cup (60 mL) cornstarch
½ tsp (2 mL) salt
2 tsp (10 mL) grated fresh ginger
1 tsp (5 mL) hot sauce such as sambal oolek
½ cup (125 mL) very finely diced sweet red pepper
2 green onions, very thinly sliced
¼ cup (60 mL) chopped fresh coriander
4 to 6 tbsp (60 to 90 mL) peanut or other vegetable oil
4 to 6 cups (1 to 1.5 L) hot cooked jasmine rice
Cucumber slices
2 limes, cut into wedges
1 Place fish and shrimp in a food processor; pulse until finely chopped but pieces are still visible. Turn into a bowl lined with 2 paper towels to absorb any excess moisture. Toss ½ cup (125 mL) panko with cornstarch and salt. Remove paper towels from bowl; thoroughly stir panko mixture into seafood.

2 Stir ginger and hot sauce into seafood; then stir in pepper, onions and coriander. Line a cookie sheet with plastic wrap or waxed paper.

3 Dividing equally, make mixture into a dozen small cakes, each about 3 inches (8 cm) wide. Cover. To firm up, refrigerate for 15 minutes or up to half a day.

4 When ready to serve, heat 1 tbsp (15 mL) oil in a large frying pan over medium to mediumhighheat. Working in batches and adding more oil as needed, coat each cake with some of the remaining panko, pressing in lightly. Sauté for 6 to 8 minutes a side or until crisp and golden brown.

5 Serve immediately, propped up against hot rice tossed with extra chopped coriander, cucumber slices and lime wedges.
SHARE