Thai Beef and Mango Salad on Rice Noodles
Winter 2008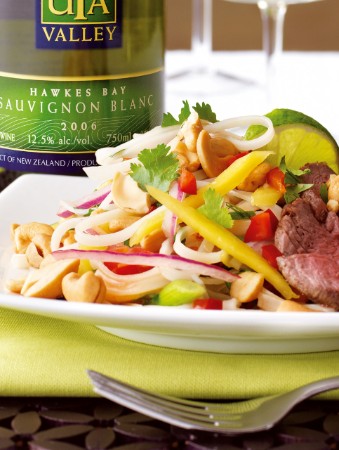 Thai Beef and Mango Salad on Rice Noodles
Winter 2008
BY: Tonia Wilson-Vuksanovic
This salad bursts with flavour and is a satisfying yet light dish. The sweet chili paste is easy to find at your local grocery store, usually right next to the soya sauce.
1 tbsp (15 mL) vegetable oil for searing
¾ lb (375 g) beef tenderloin
Salt and pepper to taste

Dressing
½ cup (125 mL) sweet chili paste
1 tsp (5 mL) fish sauce
2 tbsp (25 mL) fresh lime juice
2 tbsp (25 mL) vegetable oil

8 oz (250 g) vermicelli rice noodles, cooked, drained and cooled
2 green onions, sliced into ½-inch (1-cm) pieces
1 cup (250 mL) red onion, finely slivered
1 large mango, cut into slivers
1 red pepper, finely diced
½ cup (125 mL) loosely packed fresh coriander, coarsely chopped
¼ cup ( 50 mL) loosely packed fresh mint, coarsely chopped
⅔ cup (150 mL) salted cashews, coarsely chopped
Lime wedges, coriander sprigs (optional)
1. Preheat oven to 400°F (200°C).

2. Heat oil in an ovenproof skillet over medium-high heat. Generously season tenderloin with salt and pepper. Sear in oil until well-browned on all sides, about 10 minutes. Place in oven and cook to medium-rare, about 15 minutes or until a meat thermometer reads an internal temperature of 140°F (60°C).

3. Remove from oven and let cool to room temperature, slice thinly and set aside.

4. To make dressing, whisk together sweet chili paste, fish sauce, lime juice and vegetable oil in a large bowl.

5. Stir in noodles, green onion, red onion, mango, red pepper, coriander and mint. Toss to combine. Let sit for 20 minutes. Season to taste with salt and pepper if needed.

6. Divide salad amongst plates, top with sliced tenderloin and sprinkle with cashews. If desired garnish with lime wedges and sprigs of coriander.
SHARE