Texas Ribs Hong Kong Style
Summer 2006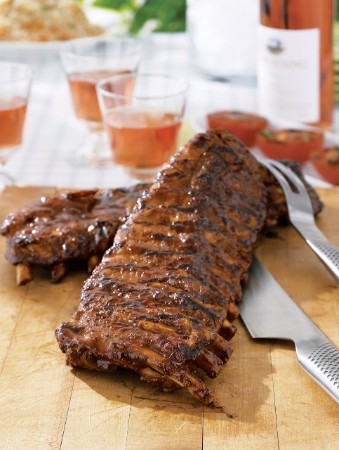 Texas Ribs Hong Kong Style
Summer 2006
BY: Mark MacEwan, Executive Chef, North 44° Restaurant
These are fabulous ribs that everyone loves. Do the oven cooking a day ahead and grill when needed.
3 racks baby back ribs
½ cup (125 mL) low-salt soy sauce
3 garlic cloves, smashed
2 bay leaves
3 tbsp (45 mL) maple syrup
1 tbsp (15 mL) Asian chili sauce
2/3 cup (150 mL) dark beer
½ tsp (2 mL) freshly cracked pepper
1 tbsp (15 mL) Worcestershire
1 tbsp (15 mL) green Tabasco sauce
2/3 cup (150 mL) high quality, Texas-style BBQ sauce
1 tbsp (15 mL) rice wine vinegar
2 pieces grilled lemon, skin on, optional
1.  Preheat oven to 350°F (180ºC).

2.  Place ribs bone-side up in a small roasting pan with all ingredients. Baste with marinade. Cover with foil and bake for 1½ hours or until tender. Drain off all liquid into a pot. Remove fat from surface and reduce sauce to coat the back of a spoon, about 8-10 minutes.

3.  Brush reduced sauce liberally on ribs.

4.  Preheat grill to medium. Oil the rack and place ribs on rack. Grill until well caramelized, about 5 minutes per side. Serve immediately with remaining sauce on the side.
BBQ Tomatoes
2 medium-size, ripe tomatoes
1 tbsp (15 mL) olive oil
½ tsp (2 mL) chopped garlic
Salt and freshly ground pepper
1 tsp (5 mL) tender thyme leaves
1.  Cut out stem of tomatoes, slice in half and toss with olive oil, garlic salt, pepper and thyme.

2.   Place on barbecue, cut-side down, over medium heat until slightly charred on both sides, 3 to 4 minutes per side. Tomatoes should be almost molten.

3.  Remove and serve with rice. Alternatively, chop the tomatoes and stir into the rice.
Scented Basmati Rice with Sweet Potatoes
2 cups (500 mL) basmati rice
1 tbsp (15 mL) olive oil
1 large sweet potato, peeled and cut in 1/8-inch (3-mm) rounds
2 tbsp (25 mL) olive oil
1 tsp (5 mL) ground sumac
1 tsp (5 mL) ground cumin
Sea salt and freshly cracked pepper
½ tsp (2 mL) fresh thyme leaves
1 tsp (5 mL) grated lemon rind
1. Bring a pot of water to boil and sprinkle in rice. Return to boil, reduce heat and simmer uncovered for 5 minutes. Strain and reserve.

2. Add 1 tbsp (15 mL) oil to a 9-inch (23-cm) high-sided, nonstick pan and lay potatoes in a single layer in the bottom of pan. Place blanched rice in centre of potatoes, 1 large spoonful at a time to form a rounded pile of rice on top of the potatoes. Once all rice is on top, pat the edges of rice to pack it into a dome shape.

3. Use the handle of a slender wooden spoon to carefully poke 8 holes in the rice dome. Drizzle rice dome with olive oil, sumac, cumin, salt, pepper, thyme and grated lemon rind.

4. Cover pot with lid and a towel to trap moisture, and place over medium-low heat. Cook for 12 minutes or until potatoes are golden and rice is tender. Remove from heat and let sit to continue steaming for 5 minutes longer. Uncover and mix together the rice and potatoes.
SHARE