Salmon Terrine
Early Summer 2014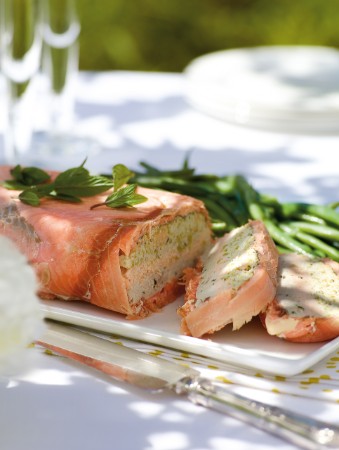 Salmon Terrine
Early Summer 2014
BY: Marilyn Bentz-Crowley
The mild seafood taste in this terrine is exceptionally good. Serve it warm or cold as an entrée with new potatoes tossed with butter and chopped fresh parsley, and green vegetables such as asparagus or thin French green beans. Or cut thinner slices to serve cold as an appetizer with crostini toasts. Pleasantly flavoured mahi mahi, sometimes labeled "dolphin fish," is not an endangered seafood and while often found in the same waters as dolphins, it is a fish closely related to a perch—and is biologically distant from dolphins, which are mammals.
8 to 9 oz (250 to 275 g) sliced cold smoked salmon
½ cup (125 mL) lightly packed baby spinach leaves
8 oz (250 g) mild white fish
such as mahi mahi, sole or haddock, fresh or defrosted
4 to 5 oz (125 to 150 g) fresh salmon fillet
½ cup (125 mL) fresh or frozen peas, lightly cooked and cooled
1 tsp (5 mL) fresh mint
1 tbsp (15 mL) finely sliced chives or green onion
6 tbsp (90 mL) whipping cream
2 tbsp (30 mL) freshly squeezed lemon juice
½ tsp (2 mL) salt
⅛ tsp (0.5 mL) cayenne or hot smoked paprika
3 egg whites
1 Preheat oven to 350°F (180°C).

2 Line an 8 x 4-inch (1.5 L) loaf pan with foil; coat with cooking spray or oil. Evenly line loaf pan with overhanging strips of smoked salmon so that they can be brought up overtop. (Hint: alternate thin and thick parts of salmon strips for maximum coverage.) Set aside 1 long strip. Line bottom of pan with overlapping spinach leaves.

3 In a food processor, purée white fish; divide into 2 bowls. Then purée salmon fillet; remove to a separate bowl. Finally purée peas, leaving some pieces visible; stir into one of white fishbowls along with mint. Stir chives into other white purée. At this point, there are 3 bowls with these mixtures: a white one with chives, one that's salmon pink, and lastly, one that's pea green with mint.

4 Stir cream with lemon juice, salt and cayenne. Dividing equally, stir a third of the whipping cream mixture into each bowl.

5 In another container, whip egg whites until soft peaks form. Then fold a third of the egg whites into each bowl just until incorporated.

6 Spread pea mixture evenly over spinach-lined pan bottom. Overtop, gently spread pink salmon mixture and finally spread white mixture. Pull up ends of smoked salmon over top; lay reserved sliced salmon lengthwise down the middle.

7 Cover with a piece of foil. Place in a deep pan; pour in boiling water to come halfway up sides of loaf pan. Bake 35 to 40 minutes or until terrine feels springy and the internal temperature on an instant-read thermometer is 110 to 120°F (43 to 49°C).

8 Leaving terrine in water bath, transfer to a cooling rack. Let rest 30 minutes to finish cooking and absorb some of the juices.Remove pan from water bath. Then peel back foil on one edge; drain and discard juices. Lift up terrine with foil to large oval platter. Carefully remove foil. Slice into 8 thick slices, being sure to firmly cut through spinach layer to very bottom. Alternatively, if serving cold, do not turn out drained terrine. Leave in foil and refrigerate for up to a day. Then unmould. Promptly chilled and kept cold, terrine keeps well for a day or 2.
SHARE