Tequila-Lime Grilled Chicken Breast
Été 2015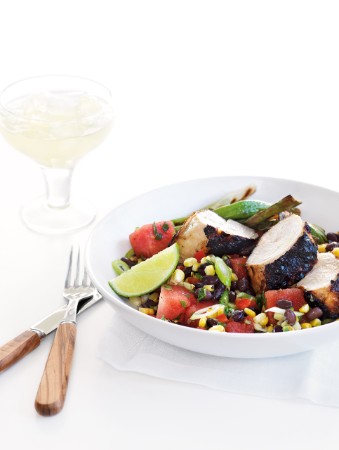 Tequila-Lime Grilled Chicken Breast
Été 2015
BY: Signe Langford
Cornbread muffins or even a handful of crispy corn chips are a perfectly light and simple side for this bright, sweet-and-sour summer dish. No barbecue? No problem! This is just as tasty done in the oven at 400°F (200°C) for 40 minutes. The versatile marinade also works well with other light proteins, such as pork, white fish, shellfish and tofu. Once it's cooked and reduced, it becomes an intense glaze or dipping sauce. If you do a vegetarian version with tofu, here's a tip: to get more flavour into bean curd, freeze it overnight, then let it thaw. This breaks down the cell structure and allows more marinade in! And to drink? An icy batch of Classic Margaritas, of course!
MARINADE
⅓ cup (80 mL) gold tequila
½ cup (125 mL) dry white wine
½ cup (125 mL) freshly squeezed lime juice
½ cup (125 mL) extra virgin olive oil
⅓ cup (80 mL) agave syrup
1 tsp (5 mL) sea salt
½ tsp (2 mL) black pepper
4 cloves of garlic, finely minced or grated
1 tbsp (15 mL) onion powder
½ tsp (2 mL) cayenne pepper
½ tsp (2 mL) smoked paprika or chipotle powder

12 green onions, roots, papery skin and tough green tops trimmed
4 chicken breasts, skin on, bone in, for best flavour and moistness
Lime wedges, for garnish
1 In a non-reactive container (glass, acrylic, ceramic), whisk together all marinade ingredients. Add the green onions and chicken, skin-side down; make sure it's all well coated. Cover and place in the fridge for a minimum of 4 hours to overnight (24 hours is best), turning the chicken over halfway through. Bring the chicken up to room temperature about an hour before you plan on grilling.

2 Pre-heat grill at medium-low to medium—no higher or the skin will burn before the meat is cooked through.

3 Place bone-side down for the first half of the cooking time; about 10 minutes.

4 When you are ready to flip the chicken, put the green onions on the grill. Keep a close eye on them, turning every so often. They will be done when the chicken is done, about 10 minutes. You should see some charred bits.

5 Flip the chicken over and grill for another 10 minutes, or until juices run clear when pricked with a fork or a meat thermometer reads 160°F (70°C) at the breast's thickest point.

6 While chicken is grilling, in a large skillet over medium heat bring the leftover marinade to a simmer and reduce by half, about 15 minutes. You should have about 1 cup (250 mL) dipping sauce.

7 Set the cooked chicken aside to rest for about 5 minutes under a loose tent of tinfoil. Serve with a generous scoop of our Black Bean, Grilled Corn and Watermelon Salad—underneath like a salad or spooned overtop like a salsa. Garnish with 3 grilled green onions each, fresh lime wedges and a side dish of the cooked, reduced marinade for dipping.
SHARE