Vegetable Tempura
Holiday 2011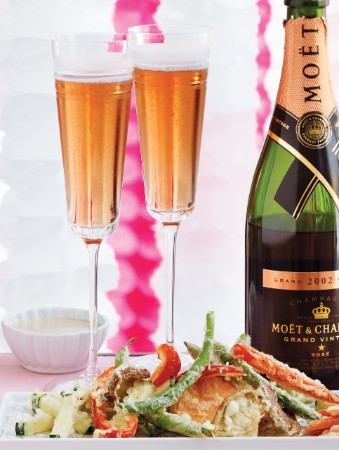 Vegetable Tempura
Holiday 2011
BY: Lucy Waverman
This batter works well for all tempura. Both shrimp and vegetables come out beautifully crisp.
BATTER
¾ cup (175 mL) cornstarch
¼ cup (60 mL) all-purpose flour
1 tsp (5 mL) baking powder
½ cup (125 mL) cold water
1 large egg, beaten
Salt and freshly ground pepper
2 ice cubes

VEGETABLES
2 carrots, cut into ¼-inch-thick (5-mm) oblong coins, blanched
1 sweet potato, peeled, sliced ¼ inch (5 mm) thick
4 oz (125 g) green beans, stem end trimmed
1 zucchini
1 red pepper
4 large shiitake mushrooms
2 cups (500 mL) vegetable oil for frying

1 Combine cornstarch, flour and baking powder in a bowl. Beat together water and egg and stir into dry ingredients. Season well with salt and pepper. Stir in ice cubes.

2 Bring a large pot of water to boil and add carrots, boil for 1 minute then add sweet potato and green beans. Return to boil and boil for 1 minute or until vegetables are crisp-tender.Slice zucchini into ¼-inch-thick (5-mm) batons. Cut red pepper into ½-inch-thick (1-cm) batons.Stem and quarter shiitake mushrooms. 3 Place oil in a wok and heat until 350°F (180°C) or until a cube of bread turns brown in 15 seconds.

4 Use chopsticks to dip vegetables in batter and add to hot oil. Fry for 2 minutes or until batter is crispy and vegetables are cooked through. Drain vegetables on paper towel and serve immediately with Wasabi Dipping Sauce.

Serves 4 to 6

WASABI DIPPING SAUCE
This is perfect with the tempura. Daikon is Japanese radish. Omit if not available. Mirin is a sweet Japanese cooking wine available at the supermarket.

½ cup (125 mL) mayonnaise
2 tbsp (30 mL) soy sauce
1 tbsp (15 mL) lime juice
1 tbsp (15 mL) mirin
1 tbsp (15 mL) wasabi paste
2 tbsp (30 mL) grated daikon

1 Combine mayonnaise, soy sauce, lime juice, mirin and wasabi and whisk until uniform. Stir in daikon.
Makes about 1 cup (250 mL) dipping sauce
SHARE