Tempura Fried Green Beans with Yuzu Dipping Sauce
Été 2014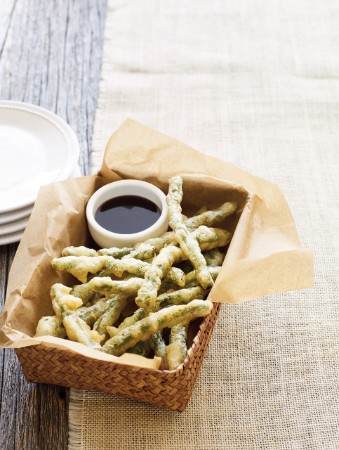 Tempura Fried Green Beans with Yuzu Dipping Sauce
Été 2014
BY: Victoria Walsh
This recipe makes for a delightfully simple appetizer or accompaniment to fresh sushi or seared fish.
¼ cup (60 mL) tempura sauce
2 tsp (10 mL) yuzu or 1 tsp (5 mL) each freshly squeezed lemon and lime juice
1 cup (250 mL) all-purpose flour
½ tsp (2 mL) baking powder
4 cups (1 L) vegetable oil
1 cup (250 mL) cold seltzer or Perrier water
1 egg
1 lb (500 g) string beans, such as green or yellow or a mix, blanched
1 Stir tempura sauce with yuzu sauce.

2 Whisk flour with baking powder in a large bowl.

3 Partially fill a deep fryer or a large deep pan with oil. Heat to 365°F (185°C).

4 Meanwhile, whisk seltzer water with egg in another bowl. Add to flour mixture. Whisk until evenly mixed. Batter may be a bit lumpy.

5 Immediately coat a small handful of beans in batter. Shake off any excess. Carefully add to hot oil. Fry for about 1 minute until lightly golden and crispy. Carefully remove, using a metal slotted spoon, to paper towels. Repeat with remaining beans and batter. Serve warm beans with yuzu sauce for dipping.
SHARE