Tandoori Salmon Burgers on Toasted Naan
Été 2014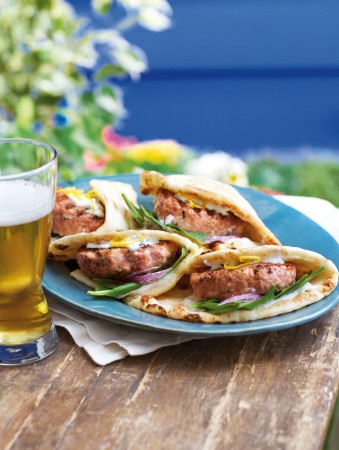 Tandoori Salmon Burgers on Toasted Naan
Été 2014
BY: Julia Aitken
These open-face, Indian-inspired burgers area lighter option for a summer barbecue. Tzatziki tastes very much like a garlicky version of the Indian condiment called raita, and buying it from your supermarket's deli speeds up prep time.
1½ lbs (750 g) boneless, skinless salmon fillets, cut into chunks
¼ cup (60 mL) panko bread crumbs
3 tbsp (45 mL) finely chopped chives
3 tbsp (45 mL) tandoori paste
1 tsp (5 mL) finely grated lemon zest
1 clove garlic, minced
¼ tsp (1 mL) cayenne
¼ tsp (1 mL) kosher salt
¼ tsp (1 mL) freshly ground black pepper
2 naan breads, 9 x 7 inches (23 x 18 cm)
½ cup (125 mL) tzatziki
2 cups (500 mL) lightly packed, washed and dried baby spinach
½ small red onion, thinly sliced
Lemon zest and/or micro sprouts for garnish
1 In a food processor, pulse salmon about 8 times or until almost chopped. Add breadcrumbs, chives, tandoori paste, lemon zest, garlic, cayenne, salt and pepper. Pulse 2 or 3 times until salmon is finely chopped but not puréed, and ingredients are well combined. Scrape out into a large bowl.

2 Form salmon mixture into 4 even-sized patties about 1 inch (2.5 cm) thick. Arrange patties in a single layer on a large plate. Cover and refrigerate for at least 1 hour.

3 Preheat barbecue to medium. Cook burgers on well-oiled grill, turning once, until browned on both sides but still coral-coloured in the centre, 8 to 10 minutes.

4 Just before burgers are ready, cut each naan in half crosswise. Toast, turning once, until well marked with grill marks.

5 Spread some of the tzatziki on each piece of naan. Divide spinach and red onion among naan. Top each with a burger. Spoon a dollop of remaining tzatziki on each burger and garnish with lemon zest and/or micro sprouts.
SHARE