Tandoori Paneer & Potato Kebabs with Fruit Raita
Summer 2013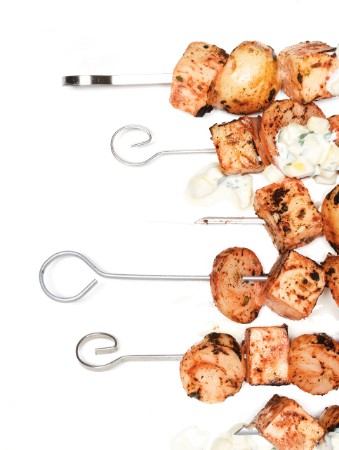 Tandoori Paneer & Potato Kebabs with Fruit Raita
Summer 2013
BY: Jennifer MacKenzie
Tandoori chicken is a perennial favourite with its tangy yogurt marinade fragrant with warm curry spices. Here the Indian cheese paneer and potatoes soak up that lovely marinade and make attractive kebabs for your grilled feast, especially complemented with the fresh fruit raita. Flat skewers work best to prevent the pieces from spinning around the skewer when you flip them. You need a well-oiled grill to keep the paneer from sticking and breaking apart when you grill it. To easily oil the grill, fold a piece of paper towel in half, then fold accordion or fan style to make a "brush." Hold the folded centre, then dip the opposite edge in oil and quickly brush the grill with oil.
12 small potatoes, each about 1½ inches (4 cm) in diameter
Salt
⅓ cup (80 mL) plain Greek or drained yogurt
2 tbsp (30 mL) tandoori or tikka curry paste
2 tbsp (30 mL) fresh lime or lemon juice
1 tbsp (15 mL) chopped fresh cilantro
1 pkg (350 g) paneer
8 bamboo or metal skewers, 10 inches (25 cm) each
Lime or lemon wedges

FRUIT RAITA
½ cup (125 mL) plain Greek or drained yogurt
½ cup (125 mL) diced mixed fruit (mango, papaya, grapes, pineapple and/or banana)
1 tbsp (15 mL) chopped fresh cilantro
Salt and hot pepper sauce
Oil
1 Pierce potatoes a few times with the tip of a knife. Place in a saucepan of cold water and bring to a boil over high heat. Season water with salt. Reduce heat and boil gently for 10 to 15 minutes or until just tender. Drain well and let cool slightly.

2 Combine yogurt, tandoori paste, lime juice, cilantro and ¼ tsp (1 mL) salt in a large shallow dish. Cut potatoes in half. Add to yogurt mixture and stir to evenly coat.

3 Place block of paneer on a cutting board with one long, narrow edge down. Cut lengthwise in half to make 2 slabs, each about ¾ inch (2 cm) thick. Place each slab with the broad-side down, then cut in half lengthwise. Cut each half crosswise into 6 equal pieces so you have 24 brick-shaped pieces. Pat dry.Add paneer to potato mixture in dish and stir to evenly coat. Cover and refrigerate for at least 1 hour or for up to 1 day.

4 If using bamboo skewers, soak in water about 30 minutes before cooking.

5 For the raita, combine yogurt, fruit and cilantro in a bowl. Season with salt and hot pepper sauce to taste. Cover and let stand at room temperature until serving, up to 30 minutes.

6 Oil grill and preheat barbecue to medium.

7 Thread 3 potato halves and 3 paneer pieces onto each skewer, alternating pieces and spacing slightly apart. Reserve any extra marinade.

8 Liberally oil grill again and place kebabs on grill. Brush with any extra marinade. Grill, turning once, for 3 to 4 minutes per side or until well browned and heated through. Serve hot with lime wedges to squeeze overtop kebabs and raita on the side.
SHARE