Tamarind Ginger Meatballs
Winter 2015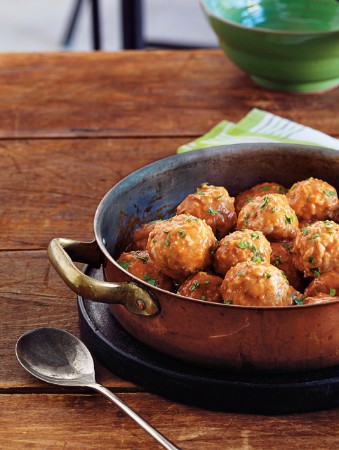 Tamarind Ginger Meatballs
Winter 2015
BY: Jennifer MacKenzie
A potluck isn't complete without a batch of meatballs. Give tradition a flavourful shakeup with this tangy, gingery, Thai-inspired version. You can make both the meatballs and sauce a few days ahead, ready for a simple reheat before serving. It's best to cool both down before mixing them together for optimal food safety. You can use a slow cooker to keep the meatballs hot for serving but it's important to heat them thoroughly on the stovetop first. Cook up extra jasmine rice to serve with the meatballs and complement them with a cucumber and carrot salad or a green mango salad.
3 oz (90 g) tamarind in a block
1 cup (250 mL) boiling water
1 stalk lemon grass
2 eggs
½ cup (125 mL) cooked jasmine rice
3 tbsp (45 mL) grated or minced ginger root
½ tsp (2 mL) salt
¼ tsp (1 mL) pepper
2 lbs (1 kg) lean ground pork or beef (or a mixture)
1 can (400 mL) coconut milk
3 cloves garlic, minced
2 tbsp (30 mL) Thai red or yellow curry paste
¼ cup (60 mL) grated palm sugar or packed brown sugar
2 tbsp (30 mL) fish sauce
Chopped fresh cilantro and/or mint
1 Preheat oven to 450°F (230°C).

2 Add tamarind to measuring cup or bowl of boiling water and let stand for about 30 minutes or until tamarind is soft.

3 Meanwhile, trim off dry, outside layers of lemon grass and discard. Cut stalk in half lengthwise. Remove tender inner core and mince to make about 1 tsp (5 mL). Cut remaining lemon grass in half, then smash with the broad side of a knife to bruise, and set aside separately.

4 Beat eggs in a large bowl with a fork. Stir in minced lemon grass, rice, 1 tbsp (15 mL) of the grated ginger, salt and pepper. Blend in ground pork. Form into about 32 balls, each 1½ inches (4 cm), and place on a large greased, foil-lined baking sheet at least ½ inch (1 cm) apart.

5 Bake for about 15 minutes or until no longer pink inside. Let cool slightly then transfer to an airtight container and refrigerate until chilled.

6 Meanwhile, strain soaked tamarind through a fine-mesh strainer into a bowl, pressing pulp with a spatula to extract as much tamarind as possible. Discard solids.

7 Heat about ¼ cup (60 mL) of the coconut milk in a saucepan over medium heat until bubbling. Add reserved lemongrass, remaining ginger, garlic and curry paste. Sauté for about 2 minutes or until ginger and garlic are soft and fragrant. Add tamarind water, remaining coconut milk, sugar and fish sauce and bring to a boil, stirring often. Reduce heat and boil gently for about 15 minutes or until slightly thickened and flavours are blended. Let cool slightly. Use a slotted spoon to remove lemongrass pieces and discard. Transfer sauce to an airtight container and refrigerate until chilled. Once both the meatballs and sauce are chilled, pour the sauce over the meatballs and stir gently to coat. Refrigerate until ready to serve, for up to 3 days.

8 To serve, reheat meatballs in sauce in a large pot or skillet over medium heat, stirring very gently and spooning sauce over meatballs to keep them moist, until meatballs are heated through. Serve in a slow cooker set on warm or low, a chafing dish or a heated serving dish. Garnish with cilantro and/or mint.
SHARE