Tamarind Chicken Tacos
Holiday 2012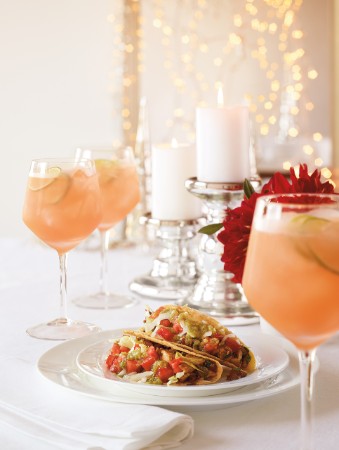 Tamarind Chicken Tacos
Holiday 2012
BY: Emily Richards
Tamarind offers up a slighty tangy but sweet flavour that works well with chicken. To get that great flavour, this recipe uses lemon juice and brown sugar, but some stores carry a tamarind chutney sauce that can be used in this recipe. Omit brown sugar, lemon juice, cumin and cayenne and substitute 3 tbsp (45 mL) of the sauce. Try this with boneless, skinless turkey breast for an alternative protein.
1 tbsp (15 mL) canola oil
1 cup (250 mL) chopped sweet onion
3 cloves garlic, minced
12 oz (375 g) boneless skinless chicken breasts, finely diced
3 tbsp (45 mL) packed brown sugar
2 tbsp (30 mL) lemon juice
¾ tsp (4 mL) ground cumin
Pinch cayenne pepper
2 tbsp (30 mL) chopped fresh parsley
12 hard shelled tacos
1 tomato, diced
1 cup (250 mL) shredded iceberg lettuce
½ cup (125 mL) green chili or tomatillo salsa
1 Heat oil in a large skillet over medium-high heat and cook onion and garlic for 4 minutes or until softened and starting to brown. Stir in chicken, brown sugar, lemon juice, cumin and cayenne and cook, stirring, for about 6 minutes or until chicken is no longer pink inside. Stir in parsley and set aside.

2 Divide chicken mixture among tacos and top with tomato, lettuce and salsa.
SHARE