Tahini-Swirl Brownies
Winter 2018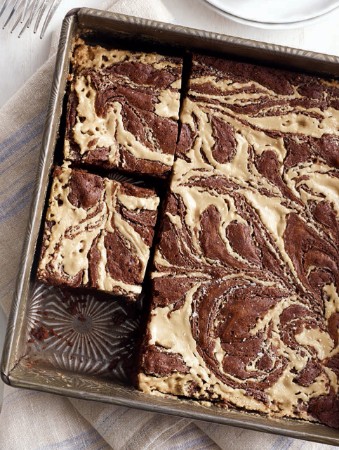 Tahini-Swirl Brownies
Winter 2018
BY: Amy Rosen
A mildly exotic swirl of tahini makes these super chocolaty brownies a little more savoury and a little more special. A sprinkling of salt at the end heightens the sweetness of the chocolate while also highlighting the tahini, for an outstanding bite.
8 oz (250 g) semi-sweet chocolate
½ cup (125 mL) unsalted butter
2 tbsp (30 mL) sesame oil
3 eggs
¼ tsp (1 mL) sea salt
1 cup (250 mL) sugar
¼ cup (60 mL) cocoa powder
1 tsp (5 mL) vanilla extract
1¼ cups (310 mL) flour
¾ cup (175 mL) room-temperature tahini, well stirred
½ tsp (2 mL) flaky sea salt
1. Preheat oven to 350°F (180°C).

2. On low heat on the stovetop or in the microwave, melt together the semi-sweet chocolate and butter. They'll seem like oil and water at first, but will come together and look nice and shiny. Stir in sesame oil and set aside. To a large bowl, add eggs, beat until good and frothy, then stir in salt, sugar, cocoa powder, vanilla and then cooled melted chocolate and butter. Stir in flour while making sure there are no lumps.

3. Grease an 8-inch (20-cm) cake pan, then pour in the batter. Drop spoonfuls of stirred tahini on top of batter then pull through and swirl with the tip of a knife. Place on the middle rack in the preheated oven for 30 minutes or until a toothpick poked in the middle comes out clean. Sprinkle with salt and slice into 16 squares.
SHARE