Tabbouleh-Topped Flank Steak Sandwich
Summer 2021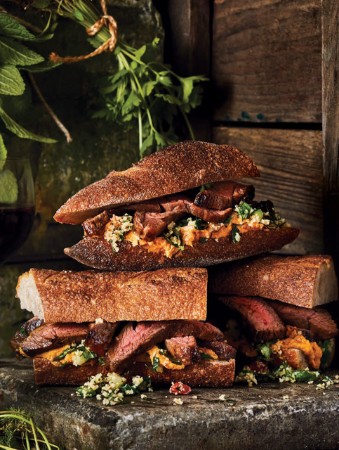 Tabbouleh-Topped Flank Steak Sandwich
Summer 2021
BY: Michelle Rabin
Tabbouleh is typically eaten as a side dish in Middle Eastern cuisine. Packed with fresh herbs, vegetables and a healthy dose of citrus, tabbouleh has a landscape of flavour that can be enjoyed alone or as a condiment to enhance sandwiches and dips. Pile this tabbouleh on a thinly sliced flank steak sandwich slathered with roasted red pepper dip, and claim your express ticket to flavour town.
1/2 cup (125 mL) fine bulgur
1 1/2 cups (375 mL) roughly chopped fresh parsley
1/4 cup (60 mL) mint leaves
1/4 cup (60 mL) roughly chopped dill
1/4 cup (60 mL) seeded finely diced cucumber
1/4 cup (125 mL) finely diced tomato
2 green onions, finely sliced
3 tbsp (45 mL) olive oil
2 tbsp (30 mL) lemon juice
2 tsp (10 mL) salt, divided
1 1/2-lbs (680-g) flank steak
1 tbsp (15 mL) canola oil
16-inch (40-cm) French baguette
1/2 cup (125 mL) store-bought roasted red pepper dip
1. Place bulgur in a bowl. Cover with 3/4 cup (175 mL) boiling water, let stand for 7 minutes, then fluff with a fork. Let cool to room temperature.
2. Place parsley, mint and dill in food processor and pulse until finely chopped (or finely chop by hand). Transfer herbs to a bowl. Mix in cooked bulgur, cucumber, tomato and green onions. Drizzle with olive oil and lemon juice, season with 1 1/2 tsp (7 mL) of salt and toss to combine. (Can be prepared 1 day ahead and refrigerated until ready to serve.)
3. Season both sides of steak with remaining 1/2 tsp (2 mL) salt.
4. Heat oil in a cast-iron pan over medium-high heat. Cook steak until medium-rare, about 5 minutes per side. Set aside and let rest for at least 10 minutes. Slice thinly against the grain.
5. Divide baguette into quarters. Slice each quarter horizontally.
6. Spread roasted red pepper dip onto each bottom piece of baguette. Top with tabbouleh salad and then divide steak slices among sandwiches. Close sandwiches with top
pieces of baguette.
SHARE