Szechuan-Glazed Ham Steaks with Apricots
Printemps 2012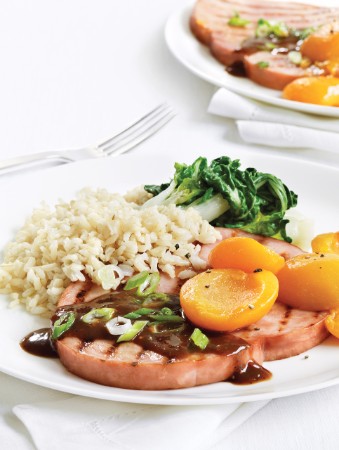 Szechuan-Glazed Ham Steaks with Apricots
Printemps 2012
BY: Monda Rosenberg
Ham is often pigeonholed as a meal for many. But now that supermarkets sell terrific tasting and textured individually wrapped steaks, there's no need to relegate ham-feasting to a party night. We've tweaked this recipe to work perfectly with either 2 or 3 steaks, whatever your need, by briefly braising them in the light apricot syrup, which also avoids the need to repurpose half a can of anything. Finally, our spicy Chinese glaze, made from pantry staples in less than 2 minutes, is the perfect flavour perk for the mild ham. Talk about a new sauce on an old favourite! Wonderful with brown rice or mashed potatoes and steamed baby bok choy, spinach or sugar snap peas.
¼ cup (60 mL) hoisin sauce
¼ cup (60 mL) sherry or orange juice
1 tsp (5 mL) hot garlic-chili sauce
½ tsp (2 mL) fi ve-spice powder
1 can (398 mL) apricot halves in light syrup or peach slices in juice
2 green onions
2 to 3 cooked ham steaks, such as President's Choice 175-g pkg hardwood-smoked steaks
Cracked black pepper (optional)
1 Prepare sauce by combining hoisin, sherry, hot garlic-chili sauce and five-spice powder in a bowl or measuring cup. Open apricots and pour about ¼ cup (60 mL) of the juice into the sauce. Diagonally slice both the green and white portions of the onions and set aside.

2 Place a large wide frying pan over medium high heat. Add entire can of apricots including remaining syrup. Boil, uncovered and stirring occasionally, until juice is reduced to about a ¼-inch (5-mm) depth, about 4 minutes. See TIP below for BBQ option.

3 Reduce heat to medium and push apricots to side of pan. Add ham. Cook until the undersides of steaks take on a little colour, about 2 minutes. Turn apricots and ham and cook until undersides are lightly coloured, about 2 minutes. (Since steaks are fully cooked, they just need heating.) Remove ham and apricots to warm dinner plates. Sprinkle with pepper to taste.

4 Stir sauce and pour into the hot pan. Stir gently over medium heat until as thick as you like, 2 to 3 minutes. Pour over steaks and sprinkle with onions.

Serves 2 to 3

TIP To heat ham steaks on a grill pan or barbecue, prepare recipe until the end of step 2. Then continue heating apricots, turning several times, until they take on a little colour. Turn off heat. Grill steaks until grill marks form, about 2 minutes a side. Place steaks in the pan with apricots and turn to coat with juice. Remove to dinner plates and spoon apricots and any remaining juice over ham. Then continue with step 4.
SHARE