Sweet Potato and Sage Brulée
Temps des Fêtes 2007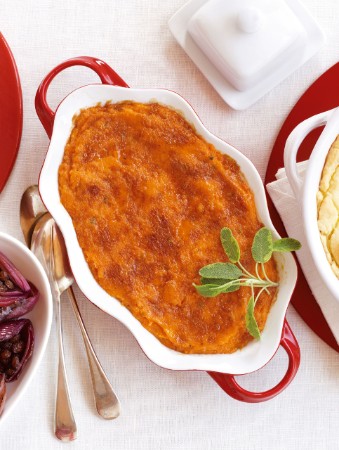 Sweet Potato and Sage Brulée
Temps des Fêtes 2007
BY: Lucy Waverman
A very flavourful dish with a creamy texture and the hard crunch of the sugar. Watch the sugar carefully, as it can burn.
4 sweet potatoes (about 3 lbs/1.5 kg)
Salt and freshly ground pepper
2 eggs, beaten
½ cup (125 mL) whipping cream
2 tbsp (25 mL) finely chopped sage
1 cup (250 mL) grated Parmesan cheese
3 tbsp (45 mL) butter
¼ cup (50 mL) brown sugar
1. Preheat oven to 375°F (190°C).

2. Prick potatoes and place on a foil-lined baking sheet. Bake for 45 minutes to 1 hour or until potatoes are tender. Let cool.

3. Spoon out sweet potato flesh from skin and place in a bowl. Mash potatoes with a potato masher or wooden spoon. You should have about 4 cups (1 L). Whisk in eggs, whipping cream, sage and Parmesan. If mixture is very thick, stir in extra cream.

4. Place in a buttered medium-sized ovenproof baking dish. Dot with the butter.

5. Bake for 20 minutes or until sweet potatoes are hot and softly set. Sift brown sugar evenly on top and place under broiler. Broil, watching constantly, for 1 to 2 minutes or until sugar bubbles and turns golden. Keep warm before serving.
SHARE