Sweet Potato and Pear Soup
Autumn 2013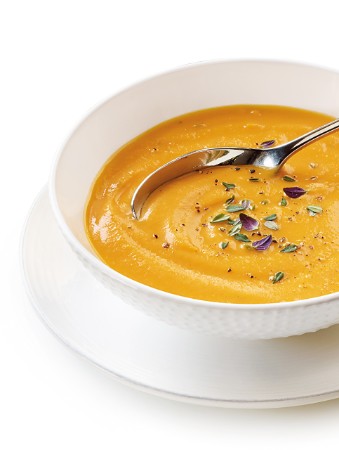 Sweet Potato and Pear Soup
Autumn 2013
BY: Lucy Waverman
This recipe was selected as one of our Editor's favourites in our 20th Anniversary Autumn 2013 issue. The recipe originally appeared in the Holiday 1999 issue.

A sweet and warming winter soup with a hint of heat from the paprika and a touch of thyme that recalls the taste of the Caribbean. This is comfort food, but with an edge of sophistication that makes it equally appropriate for a dinner party.
1 tbsp (15 mL) butter
1 small onion, chopped
¼ cup (50mL) chopped carrot
¼ cup (50 mL) chopped celery
3 medium-sized sweet potatoes, peeled and diced
2 pears, peeled and diced
½ tsp (2 mL) dried thyme
1 tsp (5 mL) paprika
5 cups (1.25 L) chicken broth (low salt canned or homemade)
⅓ cup (75 mL) whipping cream, optional
2 tsp (10 mL) maple syrup, or to taste
2 tsp (10 mL) lime juice, or to taste
Salt and freshly ground pepper to taste
1 In a pot, heat butter on medium heat. Add onion, carrot and celery and sauté for 1 minute. Add sweet potatoes, pears and thyme and sauté for about 2 minutes. Add paprika and chicken broth. Bring to a boil and simmer for 15 minutes or until sweet potato is soft.

2 Purée in a blender or food processor until smooth. Return to pot.

3 Add cream, maple syrup and lime juice. Simmer for 5 minutes. If soup is too thick add a little extra broth.

4 Season with salt and pepper, adding more syrup or lime juice as needed. Can be made up to 2 days ahead of time.
SHARE