Sweet Potato Swirls with Smoked Salmon
Autumn 2012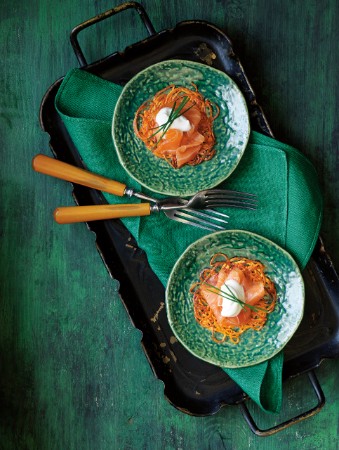 Sweet Potato Swirls with Smoked Salmon
Autumn 2012
BY: Lucy Waverman
These swirls are attractive bases for vegetarian spreads or smoked-fish. You can use regular potatoes, but the sweet potatoes make a prettier colour. If they brown too quickly, lower the heat.
1 large even-sized sweet potato, peeled
3 tbsp (45 mL) potato starch
Salt and freshly ground pepper
Vegetable oil for frying
8 oz (250 g) smoked salmon
½ cup (125 mL) crème fraîche or whipped cream
3 tbsp (45 mL) chopped chives
1 Cut sweet potato in half through the centre. Place on benriner using the medium blade.

2 Turn handle so that potato is sliced into long strands. Toss the strands with the potato starch. Swirl them together to make small flat pancakes. Season with salt and pepper.

3 Heat ¼ inch (5 mm) of oil in a skillet over medium heat. When oil is hot, add pancakes. Do not crowd the pan.

4 Fry about 2 to 3 minutes on each side until golden around the edges. Remove and drain on paper towels while finishing the remaining swirls.

5 Top with a slice of smoked salmon, a dollop of crème fraîche and garnish with chives.
SHARE