Sweet Potato Quesadillas
Summer 2009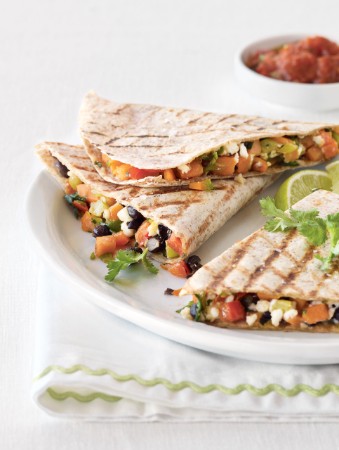 Sweet Potato Quesadillas
Summer 2009
BY: Nicole Young
We all know by now that eating a little less meat is a good idea. It's better for our bodies, better for the environment, and easier on the budget too. Cooking up healthy vegetarian fare on the grill is a pleasure and encourages you to think beyond the good old barbecue stand-bys. And with treats like these golden, crispy quesadillas there's no chance you'll miss the meat. Flavourful and hearty but light, served with grilled local corn, fresh salsa and a squeeze of lime, they're fun and delicious, perfect for a sunny afternoon and a pitcher of lime Margaritas. Serve with extra sprigs of cilantro and a light sprinkle of coarse salt for an extra burst of flavour. Sweet potatoes and black beans combine in these simple quesadillas to make them hearty enough for a healthy main course. Queso fresco is a soft, creamy, un-ripened Mexican cheese that can now be found at most cheese shops; however, crumbled feta will work if you're in a pinch.
1 tbsp (15 mL) olive oil
4 green onions, sliced, white and green parts separated
1 rib celery, diced
2 large sweet potatoes, peeled and diced
1⁄2 cup (125 mL) canned black beans, rinsed and drained
1⁄2 tsp (2 mL) each coarse salt, fresh cracked pepper, ground cumin
1⁄4 tsp (1 mL) chili powder
1 red bell pepper, diced
1 jalapeño, minced
1⁄4 cup (50 mL) chopped fresh cilantro
4 whole grain flour tortillas,
10 inches (25 cm) each
1⁄2 cup (125 mL) crumbled queso fresco cheese
1. In a large skillet, heat oil over medium-high heat. Cook white parts of green onion, celery, sweet potato, beans, salt, pepper, cumin and chili powder until onions are tender and sweet potatoes are starting to brown. Sir in red pepper and jalapeño, cook stirring often until sweet potatoes are tender, about 10 minutes. Remove from heat and stir in remaining green onion and cilantro.

2. Arrange sweet potato mixture on one-half of each of the tortillas. Sprinkle with queso fresco and fold tortilla in half to cover filling.

3. Grill over medium heat, on greased grill, turning once, until crisp and golden on both sides, about 5 minutes.Cut into wedges with serrated knife.Serve warm with fresh salsa and limes.
SHARE