Sweet Potato & Crab Hash Brown Breakfast Sammy
Holiday 2020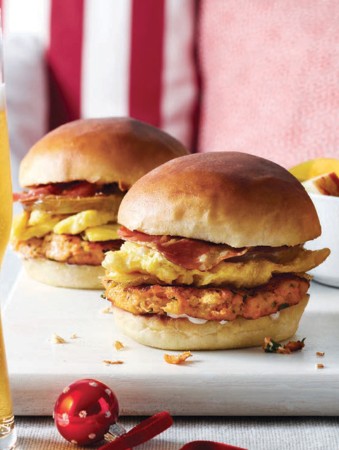 Sweet Potato & Crab Hash Brown Breakfast Sammy
Holiday 2020
BY: Victoria Walsh
The star of this breakfast sandwich is a latke-meets-rosti-meets-crab cake—basically a deliciously rich hash brown. Top it with tangy fried tomato and salty pancetta for a brunch-worthy treat. Delicious served alongside fresh fruit.
HASH BROWNS
1 medium sweet potato, about 3/4 lb (340 g)
1 tsp (5 mL) salt
1 egg
1 tbsp (15 mL) chopped parsley
Zest of 1 lemon
1/4 tsp each (1 mL) hot red chilli flakes and kosher salt
1/3 lb (150 g) real crab meat
2 to 3 tbsp (30 to 45 mL) extra virgin olive oil
6 thinly sliced pancetta rounds
1 tbsp (15 mL) extra virgin olive oil
2 small or 1 large firm green tomato
Pinch of salt

OMELETTE
6 eggs
1 tsp (5 mL) water
1/4 tsp (1 mL) kosher salt
2 tbsp (30 mL) butter
6 brioche buns
Mayonnaise (optional)
6 bibb or Boston lettuce leaves, optional
1. Prepare hash browns. Partially fill a medium saucepan with water. Bring to a boil over high heat. Meanwhile, peel a potato and cut it into 4 pieces. When water is boiling, stir in salt then carefully add sweet potatoes. Cook until they just begin to become tender, 10 to 12 minutes. Drain. Let cool completely in strainer.

2. preheat oven to 250°F (120°C).

3. Whisk 1 egg with parsley, zest, chilli and Kosher salt. Drain crab. Squeeze out any access liquid. Press with paper towels. Add crab to the egg mixture. When sweet potatoes are cool, coarsely grate them into the mixture and mix well.

4. Heat olive oil in a large frying pan set over medium heat. When hot, add about 1/3 cup (80 mL) hash brown mixture into pan. Press into a pancake shape. Cook until golden, about 10 minutes. Cakes are tender so turn them carefully. Cook until golden, 5 more minutes. Keep warm in preheated oven.

5. Wipeout and heat frying pan over medium-high heat. Add pancetta and cook until crisp, 1to 2 minutes. Remove to a paper towel. Set aside.

6. Heat 1 tbsp (15 mL) oil in a medium frying pan. Add tomato slices. Sprinkle with salt. Cook, until softened slightly, about 5 minutes. Remove and set aside.

7. Prepare an omelette by whisking eggs with water and salt in a large bowl. Wipe out and melt butter in a large nonstick frying pan over medium heat. Swirl as it melts to coat both the bottom and sides of the pan. Add egg mixture. Without scraping the pan bottom, use a fork to fluff the egg mixture. When the edge is set, 2 to 4 minutes, use a spatula to lift the edge, pulling towards the centre and tilting the pan so liquid-y egg mixture runs underneath. Repeat until mixture is set, 2 to 4 more minutes. Tilt pan beside a large cutting board. Lift the top third of the omelette and slide it out onto a cutting board. Roll up. Slice crosswise into 6 rolled pieces.

8. Serve potato-crab cake on a toasted bun spread with mayo, if desired. Top with a rolled omelette slice, sautéed tomato, pancetta crisp and lettuce, if desired. Serve warm.
SHARE